Chevy Performance: Corvette and Camaro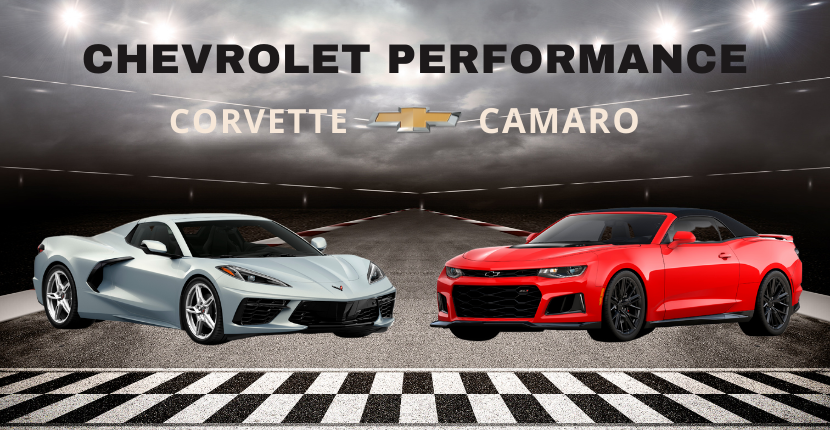 With the Chevrolet Camaro and Corvette, you have a great selection of top performance vehicles. Ready, thrilling, and able, the Camaro continues to push the limits of performance and style as an iconic American automobile. With no talk, all torque performance, the Corvette makes precision the new perfection. Check out Chevy Performance Vehicles at a Chevy Dealer Near Me now! 
Chevrolet Corvette 
With a new mid-engine layout for advantages in weight distribution, Chevy produced an impressive vehicle that perfectly combines the excellent performance of the Corvette's classic front-engine and rear-engine layout. 
As the eighth Corvette generation, the Corvette C8 offers a new 6.2-liter V8 engine with dual-clutch transmission for both power and smooth handling. The new engine produces 495 horsepower and 465 lb.-ft. of torque. The 6.2L LT2 V8 makes this mid-engine masterpiece the most powerful Stingray Sports Car produced, ever. Pushing a quarter mile in 11.2 seconds, the engine placement offers rear weight bias where it matters most. To improve downforce, the windshield is positioned over the front wheels for more power and domination out in these streets. Check out other Corvettes for sale now! 
Chevrolet Camaro 
The Camaro offers performance that is pure firepower. Chevrolet knows ​​legendary performance is why you're here. The legacy continues with track-inspired strength and capability, including four potent powertrain options, all with Direct Injection. The Camaro's 6.2L LT4 Supercharged V8 engine is capable of producing 650 horsepower and 650 lb.-ft. of torque, and it has an available 10-speed paddle-shift automatic transmission. With the V8, you can reach 0 to 60 mph in just 3.5 seconds. 
The ZL1-inspired dual-mode exhaust allows for peak performance at high engine speeds and is engineered to create an aggressive sound at idle without being overwhelming. The sculptural decklid, horizontal lamps and rear diffuser complete the powerful statement. You can find a Camaro for Sale now at Apple Chevrolet! 
Visit Apple Chevy!
Apple Chevy Tinley Park is your trusted Chevrolet dealership and the reason why our loyal customers keep coming back. From the time you enter our showroom when you service with us, you can expect to be treated like family, each and every visit. We offer an extensive selection of new and used Chevys for sale, as well as our competitive lease specials, finance options and expert auto service. We are dedicated to providing exceptional customer service and being an integral part of our community. Visit us to learn more about Chevrolet Performance Vehicles or schedule a test drive with the Camaro and Corvette today!