Most Exciting New Features in 2020 Chevy Models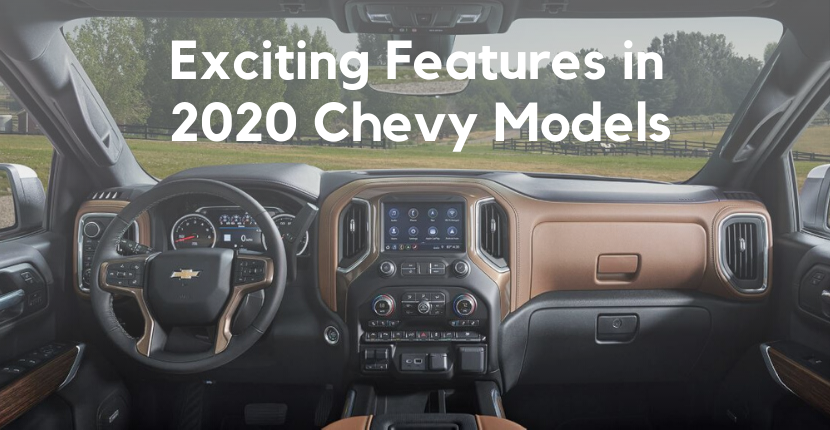 We love it when the new 2020 Chevy vehicles are announced. We love learning about the new driving, safety, and entertainment features and sharing those with you. Chevy's get lighter, faster, and have better fuel economy every year. Not only that, but they're getting sleeker and smarter too. With features like keyless ignition, adaptive cruise control, and automatic emergency braking, we love seeing Chevy move forward with Apple Chevy right along with it.
The 2020 lineup is no exception and there are a few key things to note about the improvements coming for this model year. Automatic braking is a welcome feature that will really cut down on minor collisions and even major frontal collisions can be avoided. It's always important to pay attention to your surroundings when driving. This should go without saying, but that extra layer of safety can assist a driver in emergency situations. This feature is becoming common across the automotive world. A set of sensors keep tabs on what's in front of your car and sends that info to the car's on-board computer to take control of braking when it detects another car or person.
The new Chevy models are not driver-less vehicles, but drivers are getting more and more assistance from this type of automotive technology. Lane keep assist and lane departure warnings use cameras and sensors to give drivers more information about dangers all around them. Drifting out of your lane is a jarring experience, and dangerous, so lane departure warning is a welcomed bit of tech. It should be noted that this system does not work on roads without clearly marked lines or in the dark, for that matter. Drivers still need to pay attention at all times
Safety features in Chevy's are great and appreciated but let's talk entertainment for a minute. Apple Carplay and Android Auto both have compatibility in the 2020 Chevy models. This gives the driver access to their phones without trying to use it while driving. It should be noted that, while this is an exciting feature, it's not new to the Chevy lineup. On-board WiFi and wireless charging are two more great features that give Chevy technology an edge.
If you're unsure which new Chevy is right for you, come talk to us at Apple Chevy. We are happy to tell you about all our great Chevy cars, trucks, and SUVs. We're located at 8585 W 159th Street in Tinley Park. Or call us at (708) 336-3167.