Vehicle Service Tips to Get Ready for the Winter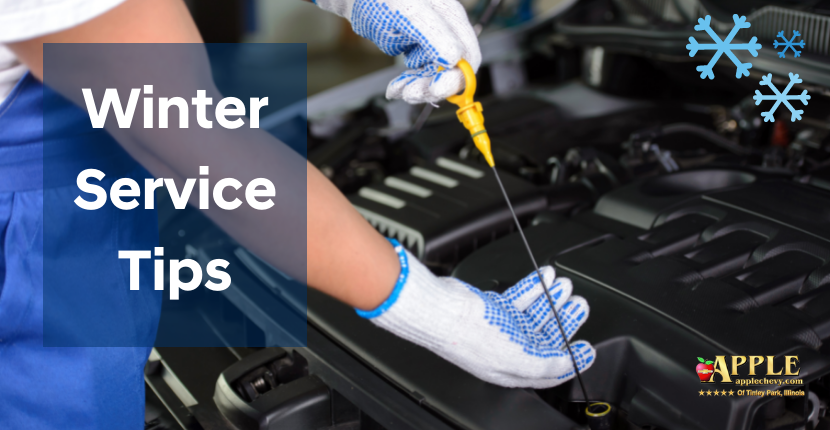 The winter weather is almost upon us! Now is the time to prepare your vehicle for snow and lower temperatures. With the accumulation of snow and ice, winter months bring serious risks for drivers. Not only does winter weather make roads hazardous, causing many more accidents, the sun setting earlier in the winter means drivers are more likely to get into accidents as they drive home in the dark. Schedule your vehicle's winter maintenance appointment at Chevy Service Near Me now before the snowfall actually starts!
How to Get Your Vehicle Ready for Winter: 
Change Your Old Wipers 

Wiper blades are especially important in the winter months, so replacing old wiper blades is one of the easiest and most impactful ways to prepare your vehicle for snowy conditions. Old wiper blades will impede your vision by leaving streaks in snow, sleet, and rain. When you see signs of old blades, like streaks, cracks, or peeling rubber, it's time for new wiper blades. 
Replace Your Car's Battery 

A battery in good condition is essential for safety during winter. Frigid temperatures can make your vehicle's battery lose power quicker. If your battery dies, you will be unable to start your vehicle, which can be dangerous if you get stranded in the winter. 
Top Off Fluids 

Refilling your vehicle's fluids is important for several reasons. Things like antifreeze and wiper fluid will make driving much safer. It can also help reduce corrosion, prevent contaminants from reaching its internal system, and flush the brake system. 
Apple Chevy Service Specials 
Your Chevrolet vehicles are truly splendid and need to be regularly maintained to keep them running at optimum conditions, especially in preparation for the winter. To save money on maintenance and repairs, take advantage of Chevrolet auto service coupons and parts specials that are currently on offer for our Orland Park customers. 
Chevy Tire Special:

Receive a $100 Rebate on a set of four tires from Bridgestone, Continental, Goodyear, Hankook, and Pirelli + double your tire rebate when purchased with the GM or BuyPower Card (Expires 11-30-2021) 

Oil Change:

6-Quart Acdelco GM OE Dexos1 Full Synthetic Oil Change Package and Tire Rotation for $64.95* (Expires 01-17-2022) 

FREE Multipoint Inspection:

Comes with every service performed here in our service department.
Visit Apple Chevy! 
Looking for a Chevy dealer near me? At Apple Chevrolet, we've got you covered with a great selection of new and used Chevys for sale. Our Chevy Tinley Park service department is the best place to get your vehicles repaired and maintained. We guarantee to deliver the best possible solutions. Our Chevrolet service department near Chicagoland has certified technicians to handle all your repair and maintenance needs. Visit us to learn more about your vehicle's winter maintenance needs or schedule service today!