The 2018 Chevy Equinox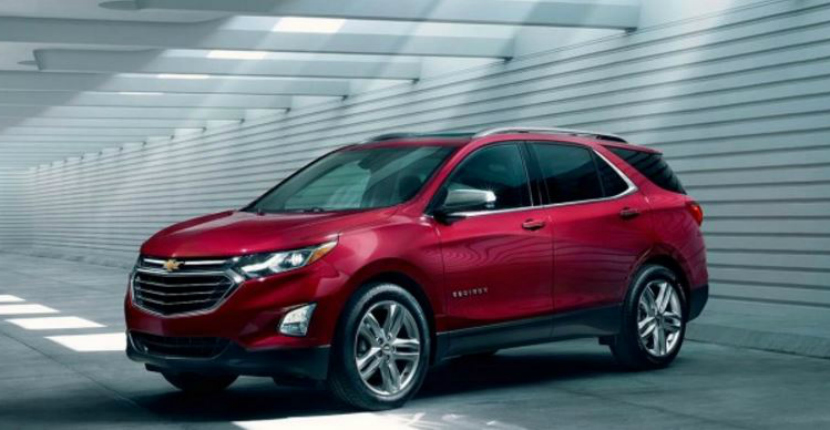 The month of January was busy for Chevrolet. Besides bringing its full model lineup to the Detroit Auto Show – including a life-sized LEGO Batmobile – the American automaker also showcased its 2018 Chevrolet Equinox at the Montreal International Auto Show. Buyers are now treated to a third generation model of the Equinox. The 2018 Chevrolet Equinox has a new turbocharged engine, a revised interior, a few new safety features, and more. It is expected to hit dealerships within the first quarter of this year.
The new Equinox looks more macho than its predecessor. The fascia sports a muscular look but with a smaller hood than the previous model. Its upper grille makes contact with the radiator grille which now has a wider frame and rectangular mesh. The fog lamps are smaller and the headlights come into a point at the grille and out the fender which adds to its modern look. The wheel wells have a new contour line that follows the arches. The 2018 model also gets smaller side view mirrors compared to the last Equinox model.
The new Equinox comes in three engines. Buyers can choose from a 1.5-liter and 2.0-liter turbocharged gasoline engines and a 1.6-liter turbocharged diesel line engine. It also now sports an all-wheel drive system that enables the rear axle to disconnect when not in use.
7.0 and 8.0 MyLink infotainment systems come available in the new Equinox. It is compatible with both Apple CarPlay and Android Auto. The 2018 Equinox also features an OnStar 4G LTE Wi-Fi hotspot. Safety features include numerous radar-based and camera-based adaptive tech, optional forward-collision warning, lane-keeping assist, low-speed automatic braking, lane-departure assist, rear cross-traffic alert, and blind-spot monitoring.
The Chevrolet Equinox 2018 model looks to directly compete with the Ford Escape and Toyota RAV4. The compact SUV market is ridiculously competitive with a large number of vehicles contending for the title of top compact SUV.
The Equinox was just one out of a total of ten Chevrolet and GMC vehicles by 2018 with diesel engines as it seeks to fill a gap left vacated by VW's emissions cheating scandal. Meeting increasing federal fuel economy and emissions standards has also motivated GM to stay in the diesel engine category. The company sold 757,000 diesel vehicles worldwide last year and expects that the new 2017 Cruze Diesel should do well. But the Equinox is definitely the star.
The 2018 Equinox is expected to hit the North American market within the first quarter of this year. So far, Chevrolet has not released details as to the exact date of availability as well as the Equinox's price range. Check back with us here at Apple Chevrolet to learn when you can test drive your first 2018 Equinox!