How to get the GM Chevrolet Educator Discount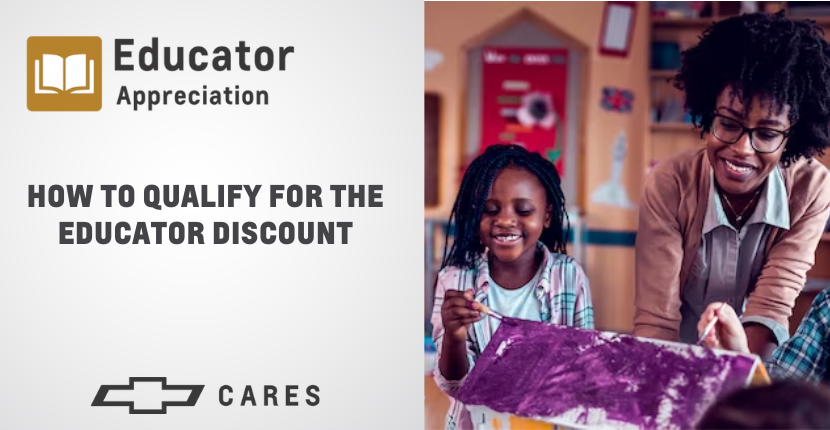 Educators have consistently displayed unwavering dedication, especially during challenging times. Chevrolet recognizes the pivotal role educators play in shaping our communities and society as a whole. As a gesture of gratitude, Chevrolet offers the Chevrolet Educator Discount Program, an initiative that offers educators an opportunity to enjoy substantial savings on new Chevrolet vehicles. Learn more about the Chevrolet Teacher Discount now at Apple Orland Park Chevy today! 
The Chevy Educator Discount Program: A Tribute to Educators
So, does Chevrolet offer discounts for educators? Yes, the Chevy Educator Discount Program stands as Chevrolet's sincere way of expressing appreciation for educators who have tirelessly supported students' growth and development. This program extends a generous $500 Bonus Cash on select Chevrolet vehicles, serving as a token of gratitude for their remarkable contributions. The best part? The educator discount can be combined with most other ongoing offers, ensuring that educators receive the utmost value for their purchases.
Who Is Eligible for the Chevy Educator Discount?
Chevrolet's dedication to recognizing educators goes beyond the classroom. Current employees of public and private schools, as well as university and college professors, are eligible participants for the Chevy Educator Discount Program. The program encompasses not only teachers but also members of the school administration, faculty, and support staff. Whether you're shaping minds as an educator or supporting the educational ecosystem in various roles, you're entitled to the same esteemed discount that valued supplier employees receive.
Furthermore, the program extends its generosity by allowing eligible participants to sponsor their spouse or children. This inclusivity highlights Chevrolet's commitment to acknowledging the collective efforts of families within the educational community.
Qualifying for the Educator Discount: Streamlined Process
To make the process as seamless as possible, Chevrolet has established simple guidelines for qualifying participants. Educators interested in availing the Chevy Educator Discount must provide the following documents:
A copy of the participant's driver's license

Either a copy of the participant's valid school ID/badge or a current pay stub (within the last 30 days), with all information redacted except for the date of the pay stub, participant's name (payee), and the name of the school (payer).
This streamlined approach ensures that educators can swiftly access the benefits of the discount, enabling them to enjoy their new Chevrolet vehicles with minimal hassle.
Apple Chevrolet: Simplifying Your Journey
At Apple Chevrolet, we understand the value of educators and their contributions. We're proud to be part of the Chevy Educator Discount Program, offering educators a seamless and rewarding experience as they explore and purchase their dream Chevrolet vehicles. To further streamline your car buying journey, we recommend visiting our website to pre-register before buying a vehicle. This step not only saves you time but also makes the car buying process more convenient, allowing you to focus on selecting the perfect Chevrolet vehicle that suits your needs and preferences.
Visit Apple Chevrolet!
Looking for Chevy dealers near me? At Apple Chevy Tinley Park, you can find new and used Chevys for sale Tinley Park, IL, as well as receive excellent service for all of your automotive needs. While we are located in the beautiful suburb of Tinley Park, we serve residents throughout Cook County and the surrounding collar counties. We are the best choice when looking for a Chevrolet dealership in Tinley Park, IL and are proud to call those residents our customers. Find the vehicle of your dreams at Apple Chevrolet Orland Park now!