Apple Chevy Blood Drive Recap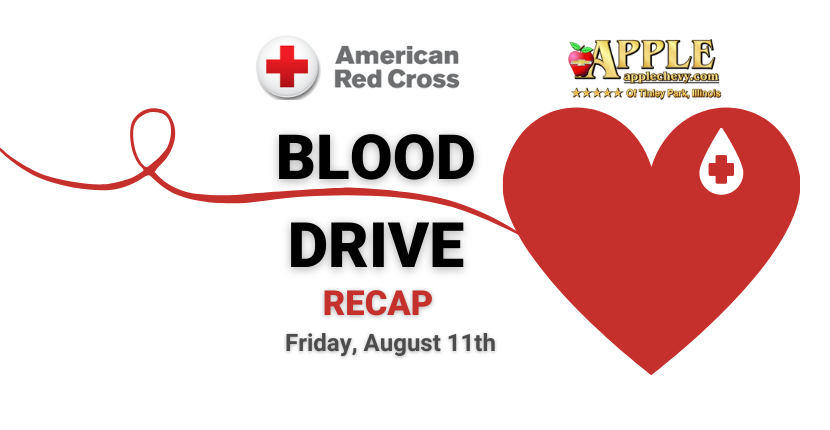 Apple Chevrolet is proud of teaming up with American Red Cross and hosting annual Blood Drive events together. Our latest Apple Chevy Blood Drive took place on Friday August 11th, 2023, that not only revved up excitement in the community but also created support and a second chance at life for others. Apple Chevrolet joined hands with American Red Cross to organize a remarkable Blood Drive once again and we thank you all for coming out and donating. This event helped bring the community together to save lives. Learn more below on how this year's Apple Chevrolet Blood Drive event went!
The Blood Drive Experience
The Apple Chevy Blood Drive event kicked off at 10:00 AM, with a line of eager donors already forming outside our Orland Park Chevy dealership. As you walked in, you were greeted by the friendly faces of American Red Cross volunteers, ready to guide you through the donation process. The donation process itself was seamless. Trained professionals ensured that every donor was comfortable and well-informed about the process. Every donation helped save the lives of 3 others.
Don't Miss Our Next Blood Drive!
Every year, Apple Chevy holds a Blood Drive at our Tinley Park Chevy dealership and we are continually amazed by the level of community support. In the United States, someone requires blood every 2 seconds. Every year, nearly 100 million people are saved by American Red Cross blood drives, which would not be possible without the staggering number of donors across the nation. The next time you want to be part of a blood drive near Tinley Park, just go to Apple Chevrolet's Facebook Page to discover when the next one is. Visit our Chevy dealer near me located in Tinley Park, IL for the next Blood Drive or to learn more about upcoming community events.