How to get the GM Chevrolet First Responder Discount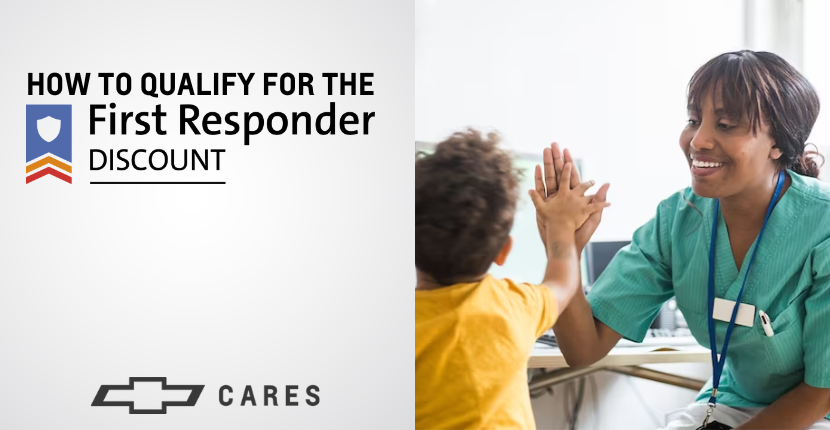 In a world where our everyday heroes put their lives on the line to protect and serve, Chevrolet is extending a heartfelt gesture of gratitude. The GM Chevrolet First Responder Discount is designed to honor the dedication and sacrifice of first responders, offering them an exclusive opportunity to save on select Chevrolet vehicles. If you're a firefighter, police officer, 911 dispatcher, EMT/paramedic, or a qualifying healthcare professional, this discount is more than just a token of—it's a way for you to experience exceptional value on the road. Take advantage of the GM First Responder Discount now at Apple Chevy Tinley Park!
Embracing the Chevrolet First Responder Program
Chevrolet's commitment to our community's brave first responders is unwavering. The Chevrolet First Responder Program serves as a testament to this commitment, extending its benefits to those who have tirelessly served on the frontlines. Firefighters, police officers, 911 dispatchers, EMT/paramedics, and qualifying healthcare professionals are eligible to partake in this program's benefits.
Claim Your Bonus Cash: The Road to Exceptional Savings
So, what is GM First Responder Discount? Qualifying first responders can claim their well-deserved bonus cash through the GM Chevrolet First Responder Discount. This discount offers $500 Bonus Cash on select Chevrolet vehicles. But here's the icing on the cake: you can pair this Bonus Cash with existing retail offers, maximizing the value and potential savings on your Chevrolet purchase.
Simplicity in Action: The Pre-Registration Advantage at Apple Chevrolet
While the GM Chevrolet First Responder Discount is a generous offer in itself, there's a way to make the car-buying process even smoother – pre-registration. Apple Chevrolet recognizes that your time is invaluable, and that's why we encourage first responders to take advantage of pre-registering on our website before purchasing a vehicle.
Taking advantage of the pre-registration process at Apple Chevrolet is as easy as it gets. Visit our website and locate the First Responder Discount section. Follow the simple steps to pre-register, providing the necessary information that verifies your eligibility as a first responder. This proactive approach ensures that when you step foot in our dealership, your path to savings is well-paved.
Visit Apple Chevrolet!
Looking for Chevy dealers near me? At Apple Chevy Tinley Park, you can find new and used Chevys for sale Tinley Park, IL, as well as receive excellent service for all of your automotive needs. While we are located in the beautiful suburb of Tinley Park, we serve residents throughout Cook County and the surrounding collar counties. We are the best choice when looking for a Chevrolet dealership in Tinley Park, IL and are proud to call those residents our customers. Visit our Chevrolet Orland Park dealer to learn more about First Responder Discounts Chevrolet today!