Vote Us The Best Of The Southland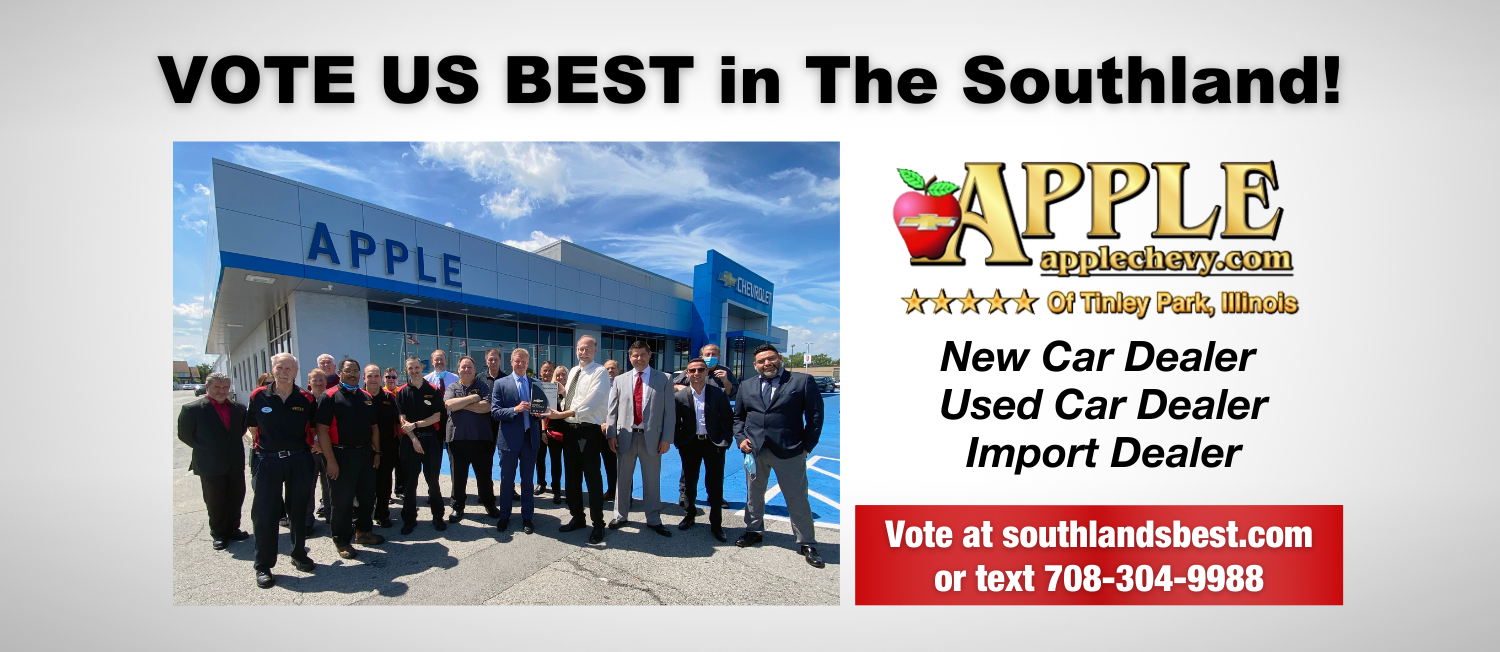 At Apple Chevrolet Tinley Park, we are happy to serve customers in the Chicagoland area and throughout northern Illinois and southern Wisconsin. We have a talented and experienced team of salespeople who are committed to finding you the best possible deal on a new Chevrolet sedan, truck, or SUV. At the Chevy Dealer Near Me, we have brand new models, as well as used Chevys for sale in all trim levels. We also have a terrific team of service technicians to help keep your vehicle on the road for many years to come. Check out some of the ways we serve you and offer the Best of the Southland: 
Giving Back to the Community 
We care about our surrounding community, so we make it our mission to give back and support the Chicagoland area. Over the years, we've hosted events and sponsored drives to promote important causes. In the past year, we have held a blood drive that benefited the American Red Cross, joined Chevrolet in supporting breast cancer awareness in October, and filled 8 Chevy Silverado's with toys for Toys for Tots last holiday season. Most recently, we hosted a blood drive for the Red Cross to help those in need of medical care, such as accident and burn victims, heart surgery patients, organ transplant patients, and cancer patients. 
These are just some of the ways we give back to the amazing community that supports us. To learn more, visit our website. 
Earning Our Stripes
Apple Chevy was recently awarded the Chevrolet Mark of Excellence Award! Chevy dealers who excel in not only sales, but also customer satisfaction, are eligible for the award. Our amazing staff here at Apple Chevrolet always go above and beyond to make your experience with us the best it can be. We are deeply grateful to both our loyal customers and dedicated staff. This achievement wouldn't be possible without you!
Offering the Best Service 
At Apple, the Chevy dealer Tinley Park, we can't wait to welcome and serve you. We promise to provide the best products and services you need and won't give you anything less than what you deserve. We always strive to serve your needs and make sure you leave happy. Here are just some of the great reviews customers have said about our service:
Cathy H.:
My experience at your dealership was, and always is, a pleasure. Your staff, in particular the agent that took care of me on yesterday, Jeff, was very polite and helpful. I would recommend family and friends!
Juanita B.:
The service team is always so kind and friendly.
Lynn G.:
Always pleasant to work with and accommodating when appointments are needed. Service Advisor kept me up to speed on my vehicle and any service needed. Also I commend Apple Chevrolet for the cleanliness of the dealership. With everything going on it is comforting the care taken to keep the place in tip top shape.
Vote Apple Chevrolet Best of the Southland! 
For all of the ways we serve you, we'd appreciate your support by voting us the Best of the Southland in the categories of New Car Dealer, Used Car Dealer, and Import Dealer by visiting Southlandsbest.com or by texting 708-304-9988. You can even be automatically entered to win a $250 Visa Giftcard if you vote at least 100 times during the voting period (July 29-August 29). We appreciate your support and hope to see you soon!