Blood Drive Coming Up!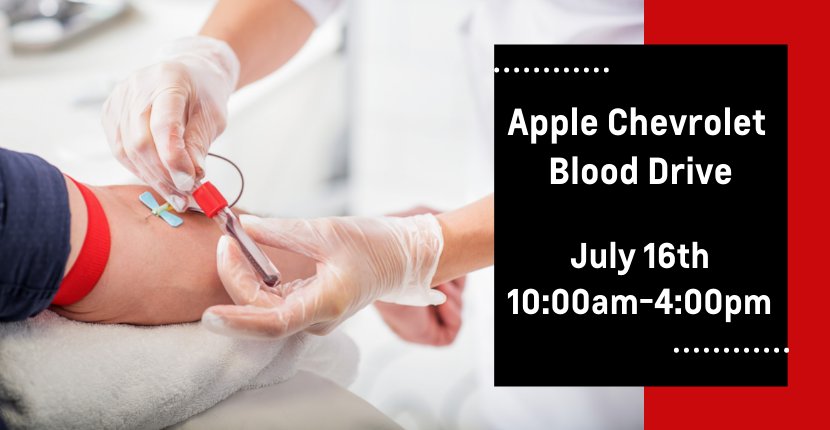 On July 16th, here at Apple Chevy we are hosting a Red Cross blood drive from 10:00am-4:00pm! Spots are limited so hurry and sign up here if you would like to participate. At our last blood drive we had around 64 donors and collected 66 units of blood! We are hoping to match or surpass those numbers this time around. Help us do just that by signing up to donate. Just one donation can save up to three lives! There is also a severe blood shortage going on right now. Your donation would mean the world. Don't wait, sign up today.
Save a Life
Wondering who you can help by donating blood? We have some answers for you. Here are a list of patients you can help by donating blood:
Accident and Burn Victims
Heart Surgery
Organ Transplant Patients
Cancer Patients
Common Concerns
Here are some common concerns provided by The American Red Cross:
Afraid of Needles?

Here are some helpful tips:

Try to focus on the good you are doing
Before your appointment read about the donation process so you know what to expect at every step
Close your eyes, listen to music, read a book or talk to the staff and relax

Unsure if Eligible?

Basic requirements include:

You are feeling well
16 years or older with parental permission
110 pounds (additional weight requirements apply for those 18 and younger)

Is it Safe to Donate?

Yes! It is very safe to donate blood.

You cannot contract AIDS or any other infectious disease from giving blood since staff members always use new, sterile needles

Afraid You'll Faint?

Most donors feel fine after donating

If you feel faint, simply lie down until you feel better
Blood Drive Near You
If donating blood and saving lives sounds like something you would want to participate in, come to our blood drive at Apple Chevrolet on July 16th! If you can't make it, we always have more blood drives throughout the year so be sure to follow us on Facebook so you don't miss it! Your search for a blood drive near me ends here at Apple Chevy Tinley Park.