What Can I Tow With a Chevy Equinox?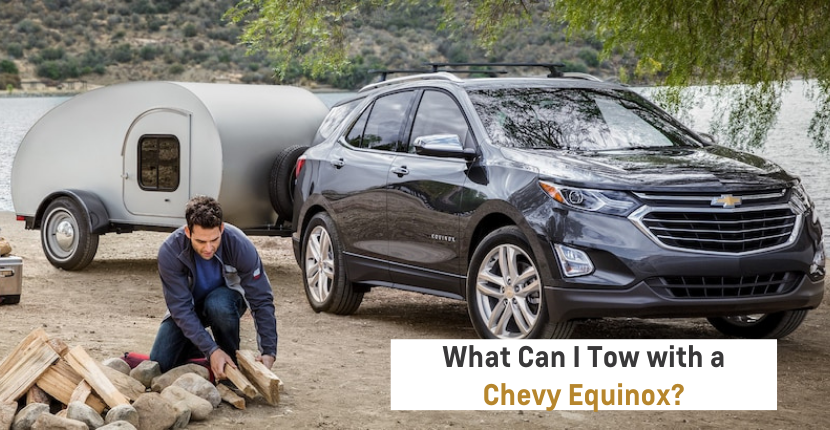 Because it is not your typical full-size SUV or truck, you may be wondering, "Can a Chevy Equinox tow?" As a compact sports utility vehicle (SUV), the Chevy Equinox can tow quite a bit. With the right setup and approach, it can do an impressive job towing to meet all of your cargo and transportation needs. 
How Much Can a Chevy Equinox Tow?
It's always pertinent to check your vehicle's owner's manual, but in general, the Chevy Equinox towing capacity is around 1,000 pounds for a trailer without brakes and 1,500 pounds for a trailer equipped with brakes. Though this is a bit lighter than what you might be able to tow, it works well for those who are really only looking to haul small to medium loads anyway, such as a mid-size ATV, a U-Haul cargo attachment, or lawn equipment, 
However, some models and added equipment can give you an even greater towing capacity. The 2020 Chevy Equinox towing capacity can reach up to 3,500 pounds with the larger, more powerful 2.0-liter turbocharged engine, as well as the Chevy Equinox towing package (including a Chevy Equinox tow hitch). Tripling the standard towing capacity, this setup can allow you to tow much more serious loads, like work equipment, moving trailers, 4-wheelers, and more. 
Towing with Your Chevy Equinox Safely 
Though Chevy Equinox ratings consistently award it for its safety and functionality, it is important for you to keep in mind a few things when beginning to tow with your Equinox. 
First, be mindful that the maximum weight for your Equinox can reach up to 5,787 pounds with front-wheel drive or 5,952 pounds with all-wheel drive models. This means that in addition to the vehicle and anything inside of it, like passengers, luggage, or other interior cargo, any additional weight you add to the vehicle needs to  add up to less than this limit. If you don't follow this guideline, it is very likely your vehicle will experience premature wear and damage to several of its components, not to mention it is very unsafe. 
Second, it is best to avoid towing anything for the first 500 miles on your new vehicle. The vehicle is too new for any serious hauling just yet. After you reach the first 500 miles, it is still important to limit your speed and stop frequently for the first 500 miles you begin towing. 
Tips for Towing with Your Chevy Equinox
Check your brakes:

This is important since you'll be adding extra stress to your vehicle's braking system, and you'll want to make your pads, rotors, and brake fluid are all set to tow your load. Make sure to do this even if your trailer is equipped with brakes already. 

Leave plenty of space when stopping:

Since you'll be stopping a lot more when pulling a trailer, it is important to give yourself at least one additional car length of space between you and other vehicles. 

Stay below 55 mph:

Your owner's manual suggests you keep your speed at 55 mph or less when hauling a trailer, and that's that law in many states. It will keep you, those around you, and your cargo safe. 

Carry a spare trailer tire:

You never know what can happen when you're out of the road with a heavy load, and carrying a spare trailer tire, just like carrying a spare regular tire, is important for those unexpected situations. 

Stay in low gear:

It is important not to overdrive when towing. Staying in a lower gear ensures that the transmission slows the engine speed quicker and that you don't strain the overdrive gear. 
Visit us at Apple Chevrolet in Tinley Park to learn more about towing with a Chevy Equinox today!