Show Some Love to Your Chevy This February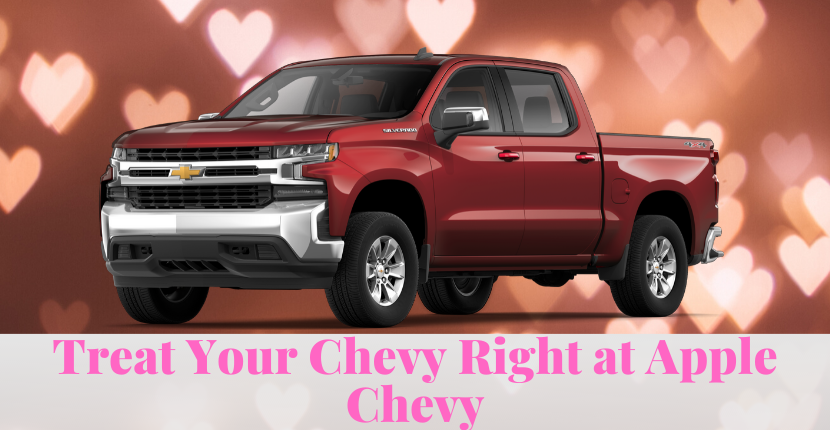 February is the month of love! It's the time to treat that someone special in your life to dinner, dancing, and other romantic pursuits. Just don't forget who gets you safely from one place to the next, especially in the winter snow and sludge. That's your Chevy and you should treat it right this Valentine's Day. If you love your Chevy as much as we love ours, you're going to want to give it the kind of top-notch service you'll only get from the Service Department at Apple Chevy.
The certified service technicians at Apple Chevy make it easy to treat your car right. We are a one-stop shop with convenient hours, expert technicians, and competitive prices on both service and parts.
Treat your Chevy right with a set of brand new tires. Not ready to make that kind of commitment yet? No pressure, we understand. Let us at least inspect them for wear and tear and make sure there's enough pressure in them.
One thing you can do to let your Chevy know you love and appreciate all it does for you is with the GM Multi-point Vehicle Inspection. This inspection form uses a color-coded key to provide you what you need to know about the maintenance of your vehicle. Will your baby get red, yellow, or green? Whatever the issue is, we'll help you solve it.
Treat your Chevy to an oil change this Valentine's Day. It will taste like fine wine to your Chevy. The certified service experts at Apple Chevy in Tinley Park will do it quickly so you can be on your way to pick up that present for your sweetheart.
Your Chevy's battery is its heart and soul so keep it fully charged. We can help you with all of your battery needs. And don't put the brakes on your relationship with your car, schedule some brake service today.
If your prized possession needs replacement parts, that's another reason to come visit the service department at Apple Chevrolet this month. You'll want to make sure your Chevy Silverado, Corvette, Camaro, Bolt or Malibu is in top running condition. And don't forget your Sonic, Spark, Suburban, Tahoe, and Equinox.
Treat your Chevy right with a service checkup today, or treat yourself right this Valentine's Day with a new model of Chevy car, truck, or SUV. Visit us at Apple Chevy. We're located at 8585 W. 159th Street in Tinley Park. Or call us at (708) 336-3167.