Chevy Colorado ZR2 Review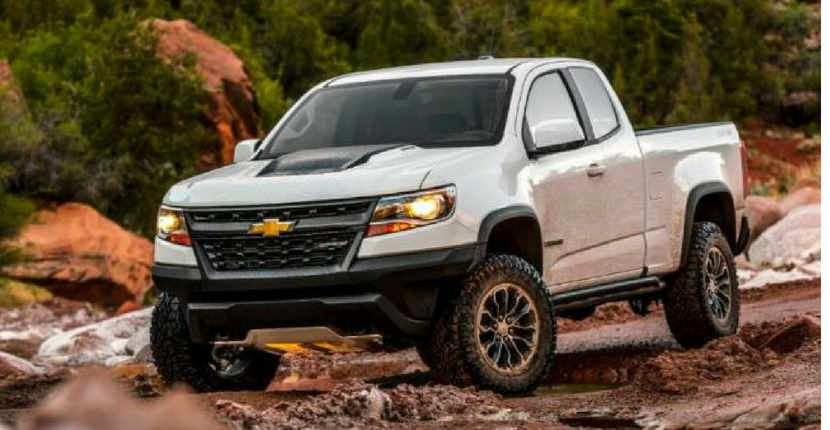 The Chevy Colorado ZR2 was designed for some off-road travel. This truck has some great features that allow you to really experience what the outdoors have to offer. Learn more about the Chevy Colorado ZR2 below.
The ZR2 definitely looks the part. This truck has an impressive hood, a tubular sport bar and off-road lights. This vehicle also has black body cladding. Also, for good form and function, the Colorado ZR2 has front and rear tracks that were widened by 3.5 inches.
As for engines, the Chevy Colorado ZR2 comes with a 3.6-liter V6 engine that gives you 308-horsepower. However, you can get a 2.8-liter inline-four diesel engine instead. This diesel engine gives you 181-horsepower and 360 pound-feet of torque.
When it comes to off-roading features, this vehicle has some good ones. According to The Drive, the Chevy Colorado ZR2 has impressive Multimatic dampers. The Drive explains, "Compared with conventional shock absorbers, Multimatic's spool valve technology allows far more variability in compression and rebound rates along the range of the damper's travel, as well as relative to impact speed and force. One payoff is excellent body control even as the Colorado is, say, racing down a washboard road, but without transmitting undue harshness into the cabin."
What else does the Chevy Colorado ZR2 have for off-roading features? It has lifted bodywork for more suspension travel, upsized springs, shocks, and cast-iron control arms, rocker panels, skid plates, and more. This vehicle is ready for an adventure.
The Drive also talks about the Colorado versus some of its competition, "The tippy-toed stance—along with reshaped front and rear bumpers—deliver eye-opening approach, breakover, and departure angles that let the Chevy pretend it's a Jeep Wrangler with a bed out back. Indeed, those generous body clearances, combined with the ZR2's shorter wheelbase and skinnier footprint, actually give the Chevy one off-roading advantage versus its Motown rival: The Chevy can negotiate tighter, steeper trails that would stymie the full-size Ford."
The Chevy Colorado ZR1 has a lot to offer you if you want to take on an adventure. If you are looking for Chevy trucks for sale near you, come down to Apple Chevrolet. We have a great selection of trucks like the Chevy Colorado and the Chevy Silverado. At Apple Chevy, we can help you find what you are looking for in your next vehicle.
Apply Chevy is your Tinley Park Chevy dealer. We can help you upgrade to your next vehicle, so you should stop in and see us today.