2022 Year in Review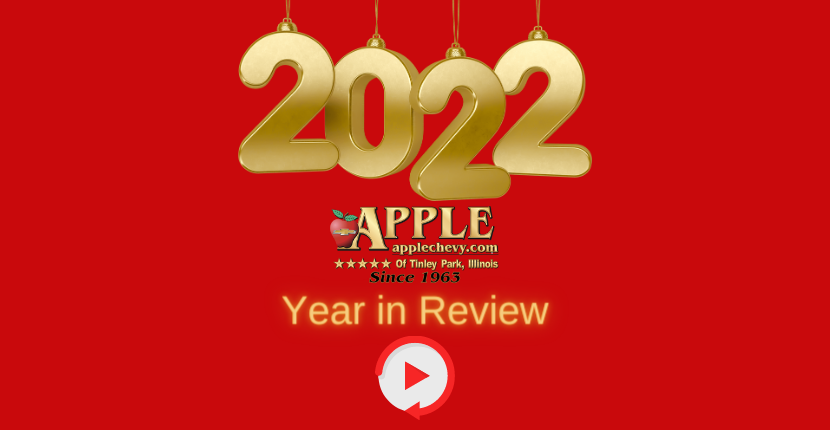 Celebrate 2022 with us at Apple Chevy! We are proud to be your trusted Chevy dealer. Thanks to all of our amazing customers and employees we were able to accomplish a lot of wonderful things this year. From normal days at the shop to dealership awards and community events, we had a blast this year! Below are some of our favorite highlights from 2022!
Top Work Place Nomination
A major highlight in 2022 was when Apple Chevy was chosen as a Chicago Tribune Top Workplace! The Tribune says "A top workplace is successful because its employees enjoy their work, embrace their mission and feel like valued teammates." We are proud to be considered a company that exemplifies these traits. It's an honor to be called a top workplace and we are thankful for our awesome team. 
Ducky Derby
Back in August, we partnered with the Chicago Ducky Derby to help support the Special Olympics. Apple Chevy donated a 2022 Chevy Equinox to raffle off for the event. All of the money raised from the Equinox raffle went towards this awesome cause and helped transform the lives of Special Olympics athletes in Illinois. 
Military Care Package Event
In November, Apple Chevy hosted our Military Care Package Event. Leading up to the event we had boxes around the dealership for members of the community to leave donations. A lot of care package items were dropped off or shipped to the dealership. The event allowed us to prepare many care packages for our troops and show our support for our military.
Blood Drive
Apple Chevy hosted multiple blood drives in 2022 to get the community together and make a difference. We were proud to have supported the American Red Cross with each drive. Thank you to everyone who donated to help save the lives of others.
2022 Elite Leaders Award Recipient
Apple Chevrolet was a recipient of the 2022 Elite Leader Award! This honor was achieved by being among the top 250 dealerships for new Chevrolet sales in the United States. We owe all of our success to our dedicated team and wonderful customers. We want to thank everyone involved for contributing to this achievement!
Toys for Tots Event
Every year around the holidays, Apple Chevy hosts our Annual Toys for Tots Event. Leading up to the Toy Drive Party we collected toys from members of the community by either shipping or dropping off a toy at the designated spots in the dealership. Our goal to help support children in need during the holiday season was achieved above and beyond thanks to all of your generous donations. 
Visit Apple Chevrolet!
Thanks to all of our awesome employees and customers. We had an amazing year and can't wait to see what 2023 has in store for us. Visit your Tinley Park Chevy dealership today to browse our selection of vehicles or visit our website to learn about next year's events! We are proud to be your Tinley Chevy dealership and be a part of such a great community.