How to Safely Warm Up your Car in the Winter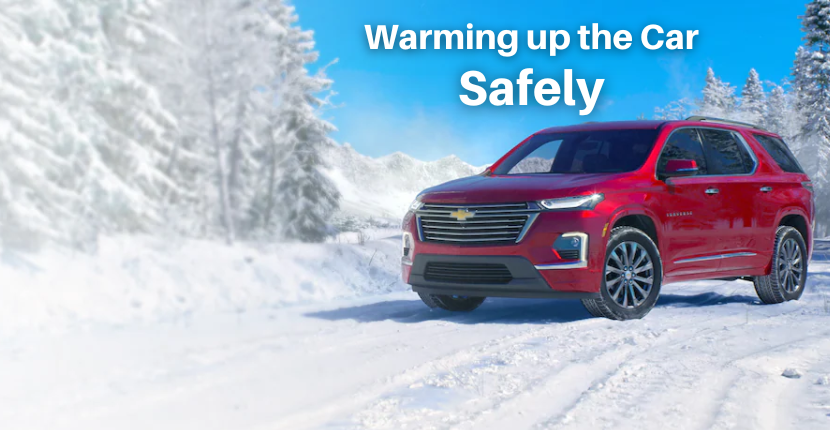 One of the best things you can do in the winter is to warm up your vehicle before driving it. It can help preserve fuel, extend your vehicle's life, and make driving more comfortable in cold temperatures. All new Chevrolet models have available remote start, accessible on your vehicle's key fob and through the MyChevrolet app. With impressive technology, the remote start function warms or cools your vehicle's cabin before entry so it's comfortable when you get in, allows you to warm up your vehicle's engine, and integrates with your vehicle's anti-theft system. It's especially handy for warming up your car safely during the cold months. Learn more winter car tips now at Apple Chevrolet! 
MyChevrolet App 
It's smart, simple, and seamless. The MyChevrolet app uses Chevy technology and is designed to connect you to your vehicle at any time anywhere, available now on the Apple App Store or Google Play Store. Turn your compatible smartphone into a mobile command center for your vehicle—even when you're not near it. 
The available MyChevrolet Mobile App has almost everything you need to take your ownership experience to the next level—and it's just a download away. One of its most popular uses is as a Chevy Remote Start app, but you can also manage your vehicle's diagnostics, schedule service, locate your vehicle, and do so much more all from your smartphone. Simply visit a Chevy dealer near me for help with the MyChevy app. 
How to Safely Warm up Your Vehicle
Once you're ready to warm up your vehicle, you can use the MyChevrolet app remote start from anywhere or the remote start function on your Chevy key fob. If you're using your key fob, you'll need to be near your vehicle to connect. 
Begin by pressing the lock button to lock your car before it starts your engine for safety and security purposes. You will not be able to remote start your vehicle until it has been locked beforehand. Then, immediately press and hold the remote start button (this button is shaped like a curved arrow, usually below the unlock/lock buttons) for at least four seconds. Your engine will then roar to life. If your vehicle is stored in your garage, be sure to open the exterior door so the engine gasses don't pool in the enclosed area as this can be very dangerous. 
Remote Start Tips 
Not sure how long to let a car warm up? When you remote start your vehicle, your engine will run for only 15 minutes before it shuts down itself. The time limit is meant to preserve power in case you change your mind or forget your vehicle is started. Just one cycle should be enough time for your engine to warm up sufficiently. 
You can also remote start again if temperatures are extremely low or you're not sure if it's ready to go. If the 15 minutes run out before you're ready to depart, you can repeat the remote start process within 30 seconds of the first run time, for a total of 30 minutes. If you changed your mind about leaving, you can easily turn your engine off by pressing and holding the remote start button just like you do to turn it on. 
Visit Apple Chevrolet!
Looking for a Chevrolet dealer near me? At Apple Chevy, you can find new and used Chevys for sale, as well as receive excellent service for all of your automotive needs. While we are located in the beautiful suburb of Tinley Park, we serve residents throughout Cook County and the surrounding collar counties. We are the best choice when looking for a Tinley Park Chevy Dealer and are proud to call those residents our customers. Visit your Trusted Chevy Dealer to get Chevy remote start on your vehicle today!