How Easy Is It to Switch to an Electric Vehicle?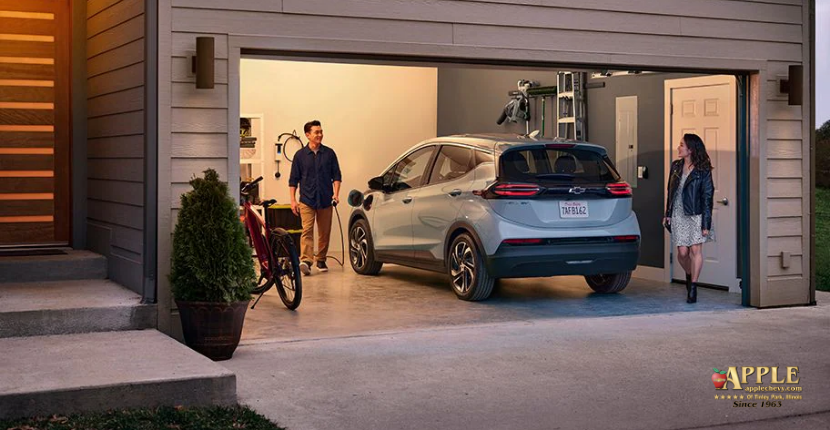 Switching from gas to electric cars is easier than ever. Not only do EVs make driving more sustainable, but they also save you time and money at the gas pump. Most electric vehicles are also eligible for $7,500 federal tax credit. They're also more pleasant to drive—driving more quietly and delivering torque immediately. Maintenance is also easier, less frequent, and cheaper. To learn more about how to make the transition to an EV, visit Apple Chevy Tinley Park today!
Benefits of Driving Electric 
It may be obvious, but with an electric vehicle, you no longer need to pay for gas. That means huge savings—on average, between $2,000 and $4,0000 on gas every single year. 
In addition to the savings from eliminating the need for gas, electric vehicles earn you major savings on maintenance costs. As an electric vehicle, it doesn't require oil to lubricate the engine, eliminating the need for oil changes. Just that alone means huge savings over time. Add in the fact that the same is true of other expensive engine work and brakes won't wear as easily, and this can add up to $6,000 to $10,000 in maintenance savings over the life of the EV.
How to Make the Switch Easier
Becoming an electric vehicle owner is easier than ever. There are a few things you'll want to do to make the transition even easier. 
1. Get a Home Charger: Wondering how to charge car battery in home? Installing n SAE J1772, also known as a Level 2 Charger, means your charging capacity will be around 12–60 miles of range per hour. That's enough to add 200-plus miles of range overnight. Without it, you'll only be able to add roughly four miles of range for every hour on the socket.
2. Familiarize Yourself with Charging Networks: While you'll probably mostly recharge your EV at home, you might need to charge up at a station out on the road. While all cars sold Stateside can use the SAE J1772 Level 2 charger, Level 3 charging — also called DC fast charging—is also available. Downloading the networking charging apps, like PlugShare, now will save you the hassle later. 
3. Get Ready to Claim Your Tax Break: For even more savings, electric vehicles are eligible for a nearly $7,500 federal income tax credit if the vehicle was purchased new in or after 2020. Electric vehicles also earn other state and local tax credits or financial incentives. 
Visit Apple Chevrolet!
Looking for a Chevy dealer near me? At Apple Chevy, you can find new and used Chevys for sale, as well as receive excellent service for all of your automotive needs. Visit us to learn more about making the transition to an EV!