GM's Buckle Up System is Keeping Drivers Safe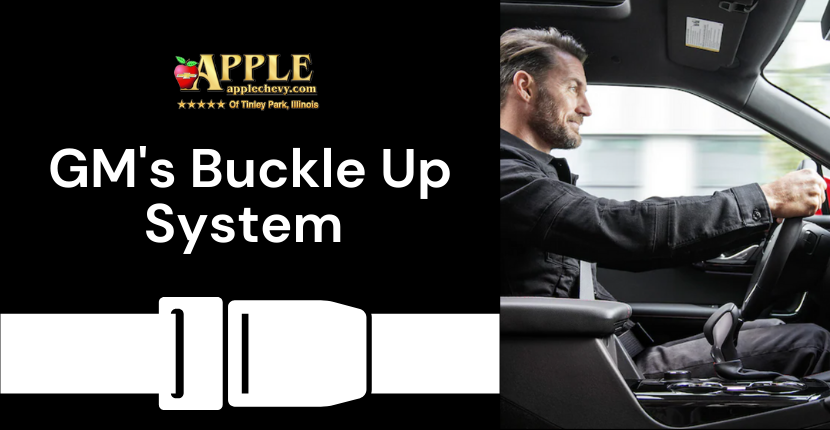 General Motors' industry-first Buckle to Drive feature helps remind young drivers to buckle up before driving, and it's now expanding. Initially launched for select Chevrolet vehicles, the Buckle Up feature was part of GM's Teen Driver Technology working to make sure young drivers always remember to buckle up before hitting the road. The feature is another step in GM's response to keep teen drivers safe, and the manufacturer is expanding the feature to even more vehicles. Check out the Buckle to Drive feature with a test drive at a Chevy Dealer Near Me now!
How Buckle to Drive Works 
In Teen Driver Mode, your vehicle will prevent the driver from shifting the vehicle out of park for 20 seconds if the driver's seat belt is not buckled. For convenience, the driver will hear an audible alert and see a message in the driver information center that reads "Buckle seat belt to shift" when the brake pedal is pressed. Originally exclusive to Teen Driver Mode, GM is expanding the feature for all drivers in new vehicles. 
Buckle to Drive Keeps You Safe 
For teen drivers, the unfortunate fact is that they have some of the lowest rates of seat belt use. Recently, the Centers for Disease Control and Prevention found that the majority of teenagers involved in fatal crashes are unbuckled. GM is committed to keeping teen drivers safe no matter what, which is why it created the Buckle to Drive feature. Its seatbelts safety results are promising — IIHS found the feature increased seat belt use by 16 percent compared to the standard audible chime seat belt reminder in similar Chevrolet vehicles.
Launching the feature, Tricia Morrow, Chevrolet safety engineer, said, "Buckle to Drive is Chevrolet's latest feature designed to encourage young drivers to develop safe driving habits right from the start. Buckle to Drive is embedded in Chevrolet's Teen Driver system and is aimed at helping remind teens to buckle up every time they get behind the wheel."
GM to Expand Buckle to Drive to Chevrolet Vehicles 
The Buckle to Drive feature was initially launched only for select 2021 Chevy models, including the Chevrolet Traverse, Chevrolet Malibu, and Chevrolet Colorado. The success of the feature means GM is expanding Buckle to Drive to even more vehicles, increasing the already-impressive Chevrolet safety. Buckle to Drive will now be available on the GMC Canyon, Chevrolet Equinox, Chevrolet Blazer, Cadillac CT4, Cadillac CT5, and several others. The feature is expected to become standard on 2022 SUVs and full-size trucks, with a wider implementation planned for 2023 at Chevrolet dealers. 
Visit Apple Chevrolet! 
Looking for a Chevy Tinley Park? At Apple Chevy, we have a great selection of new and used Chevys for sale. We are happy to serve customers in the Chicagoland area and throughout northern Illinois and southern Wisconsin. Our talented and experienced team of salespeople who are committed to finding you the best possible deal on a new Chevrolet sedan, truck, or SUV. We also have a terrific team of service technicians to help keep your vehicle on the road for many years to come. Visit us to learn more about the Buckle to Drive feature or schedule a test drive with the feature today!