Meet Our General Sales Manager, Randy Ramus!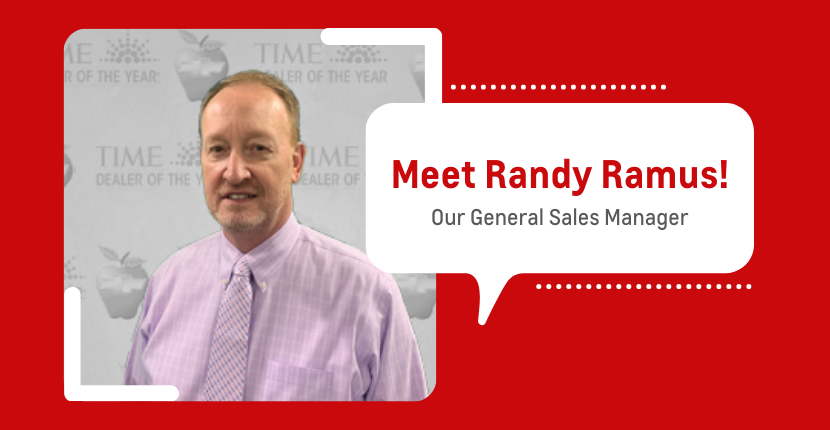 Wondering, what makes a dealership successful? A successful dealership has a dedicated staff that always puts the customer first. Here at Apple Chevrolet, we can thank our employees for our tremendous success over the years. Their loyalty to Apple Chevrolet has impacted our dealership immensely, making our team of employees feel like one big family. One of our most dedicated employees is our General Sales Manager, Randy Ramus. Let's learn more about Randy!
About Randy
Randy has been with Apple Chevrolet for 35 whole years! He has helped Apple Chevrolet become one of the most trusted Chevrolet dealers in the Chicagoland area. Him and his wife live in Mokena and have been there for the last 30 years building a beautiful life together.
Questions & Answers
Question: What is a fun fact about you?
Answer: "My wife and I have 7 grandkids and they pretty much monopolize all of our time"
Question: What is your favorite Chevrolet model?
Answer: "I like to drive the Traverse. Being the fact that we have 7 grandkids, we're able to get them all in the vehicle."
Question: What is one thing you like about working at Apple Chevrolet?
Answer: "My favorite thing about working at Apple Chevrolet is the people."
Why Apple Chevrolet?
After spending 35 years at Apple Chevrolet, Randy has found many things to love about working here. As we mentioned before he said his favorite thing about Apple Chevrolet was the people. He also mentioned how the salespeople have been at Apple Chevrolet for about 20+ years! With so many years under their belts together Randy said, "It's a great group of people that's close knit and that like to take care of their customer." We are so thankful to have such a committed staff that is continuously putting the customer first and making the experience at Apple Chevrolet just that much more enjoyable.
First Class Experience
When talking to Randy, we asked him to explain what customers can expect when they come to Apple Chevrolet. Randy responded, "A customer can expect a straightforward, honest, enjoyable experience at Apple Chevrolet. We do pride ourselves on taking care of the customer." And taking care of the customer is exactly what Randy does day after day. Thank you Randy for helping make the experience at Apple Chevrolet always delightful for our customers!
Visit Apple Chevrolet
Experience all we have to offer at Apple Chevrolet today! Come explore our wide selection of new and used Chevys for sale. Even schedule a test drive in your favorite vehicle! Don't wait, come visit us today and meet Randy in person! Your search for a "Chevy dealership near me" ends here at Apple Chevrolet Tinley Park.