Find Out How the 2021 Chevy Tahoe 3.0L Duramax Is the Leader in Fuel Efficiency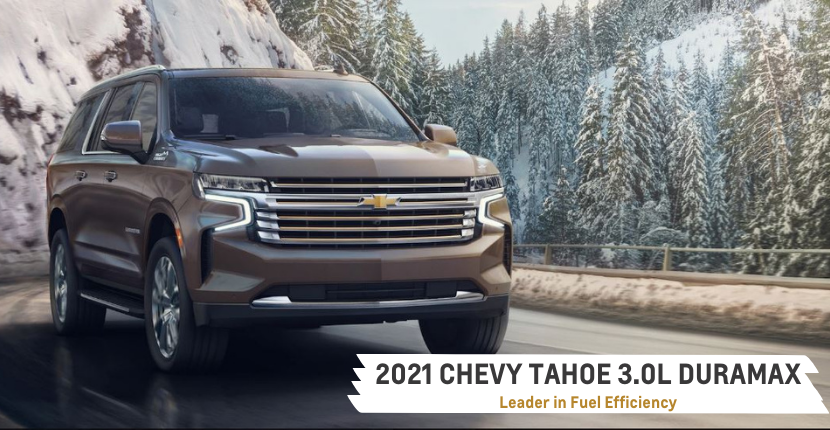 The 2021 Chevy Tahoe fuel economy is impressive and industry-leading. In fact, the 2021 Tahoe 3.0-liter Duramax turbo-diesel is the most fuel-efficient full-size SUV in its class. With this incredible efficiency, the 2021 Tahoe delivers longer driving trips with the reliable tradition of the model's size, functionality, and cargo capacity. 
Fuel Efficiency Numbers 
Equipped with the available 3.0-liter Duramax turbo-diesel engine and rear-wheel drive (RWD), the 2021 Chevy Tahoe diesel mpg is an EPA-estimated 28 highway and 21 city, with a combined 24 mpg fuel efficiency. On the four-wheel drive model (4WD), the Tahoe has an EPA-estimated fuel efficiency of 26 mpg highway and 20 mpg city, with a combined 22 mpg. As a full-size SUV, the Tahoe has excellent fuel efficiency, perfect for getting you where you need to go with less time and money spent refueling. 
Diesel Engine Details
Diesel engines are making somewhat of a comeback for the Chevrolet brand. It hasn't offered a diesel engine in a full-size SUV since 1999, and it is Chevrolet's first diesel inline-size engine for a full-size SUV ever. Chevy will be offering this setup for other full-size SUVs, including the 2021 Suburban. Compared to the Suburban, though, the 2021 Chevy Tahoe has the best fuel efficiency numbers. 
First introduced in the 2020 Silverado, the 3.0-liter Duramax turbo-diesel engine utilizes state-of-the-art technology to optimize fuel efficiency. With unique integration for the all-new vehicle architecture, the engine has been adapted to the full-size SUV. It includes enhanced noise abatement and a new engine control module equipped with the ability to take advantage of the faster data-processing power on newer Chevrolet models. For smooth shifting and driving, the engine is coupled with a 10-speed automatic transmission on the 2021 Tahoe. 
Diesel Engine Capabilities 
On the 2021 Chevrolet Tahoe, the 3.0-liter Duramax turbo-diesel engine produces an impressive SAE-certified 277 horsepower and 460 lb.-ft. of torque. Equipped with two-wheel drive, the Tahoe diesel engine has a maximum towing capacity of 8,200 pounds along with a max payload of 1,717 pounds.
For those with towing needs, a standard exhaust brake  in tow-haul model is available for the 2021 Tahoe, which makes the towing journey easier and safer, as well as provides additional driver confidence when towing. Additionally, the Tahoe is equipped with a driver-selectable stop/start technology that optimizes fuel efficiency by turning off the engine when stopped, such as at stoplights and stop-and-go traffic, which saves additional fuel. 
Duramax Turbo-Diesel Engine Availability
On the 2021 lineup, the 3.0-liter Duramax turbo-diesel is available for the LS, LT, RST, and Premier trim levels for an added $995 over a 5.3-liter V-8 gas engine. On the High Country trim level, the Duramax turbo-diesel engine is available for $1,500 less than the trim's standard 6.2-liter V-8 gas engine. 
Visit Apple Chevrolet  
Searching for a "Chevy dealership near me"? The search ends here at Apple Chevrolet Tinley Park, we have a wide selection of new and used Chevys for sale. Visit us to learn more about and test drive all-new Chevrolet vehicles, including the fuel-efficient 2021 Tahoe, today!