Buy a Chevy Online for the Holidays With Unbelievable Deals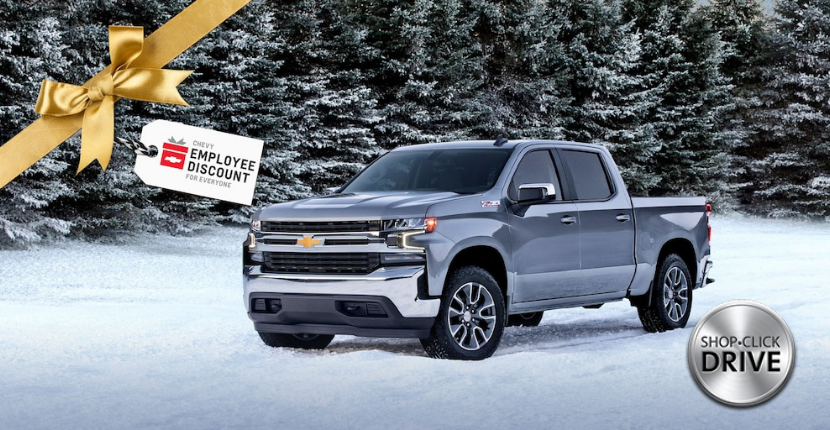 This holiday season, Chevrolet is offering customers excellent sales and unbelievable deals with the Chevy Employee Discount for Everyone sale. So, what is the Chevy Employee Discount? Basically, this means the price you pay for your brand-new Chevrolet vehicle is what we pay. These savings are so unbelievable that we know you may be asking: is the Chevy Employee Discount real? Well, it really is. You won't pay a single cent more than us! 
On some of Chevrolet's best and most popular vehicles, you'll receive thousands in savings. For those looking for a spacious family vehicle, the 2020 Traverse High Country AWD offers a $4,300 Employee Discount for Everyone, while those looking for a roomy midsize SUV will receive a $3,890 Employee Discount for Everyone on the 2020 Blazer RS AWD. 
Shop Online this Holiday Season
With all of these deals from the Chevy Employee Discount sale, it is the best time of year to buy a Chevy! At Apple Chevy, we know you might be avoiding in-person activities this winter, which is why we have set up an easy and convenient online browsing and shopping tool for all of your Chevy-buying needs. With this option, you'll get more control over the process and keep your valuable time on your own terms. 
Now, you can shop online and take delivery at home with Shop. Click. Drive. This gives you the opportunity to browse for all the features you need all from the comfort of your home. We know it can take some time and consideration to pick out your trim, accessories, and protection plans, so we've made everything available online, even a real-time credit check, online deal negotiation, and financing are available. When you're done picking out your new Chevrolet vehicle, it will be prepped and delivered to your home. 
Shop. Click. Drive. Makes Everything Easy 
We've made the process of selecting and buying a new Chevrolet vehicle convenient and easy for you. The Shop. Click. Drive. Platform makes getting a new Chevy easy and seamless with three easy steps. 
Your first step will be to select your vehicle. With easy-to-use tools, you can search vehicles by model year, price range, and features, as well as locate the closest Chevy dealer to you that has the vehicle you're looking for. 
For your second step, you can create your deal. This will include estimating the trade-in value of your old vehicle and choosing the best financing or leasing options for you. 
Your third and last step is scheduling the delivery of your brand-new vehicle. There are two options: taking delivery of your vehicle at home when available or scheduling a pickup of your vehicle at the dealership's showroom. 
Chevy's Order Online Tools 
To make the process even easier, you can save your transaction and come back later when you have more time. Chevrolet's Save & Exit feature allows you to return to your process whenever you're ready. Clicking the corresponding icon will create a unique link for you to use for up to 14 days, but be sure to get back to it to make sure you can still take advantage of Chevy's amazing holiday deals. 
You can also create an account to use with Shop. Click. Drive. This will allow you to save your current deals, as well as manage additional products and services from General Motors that you regularly use.