2021 Chevy Tahoe and Suburban to Offer Illuminated Black Chevy Badge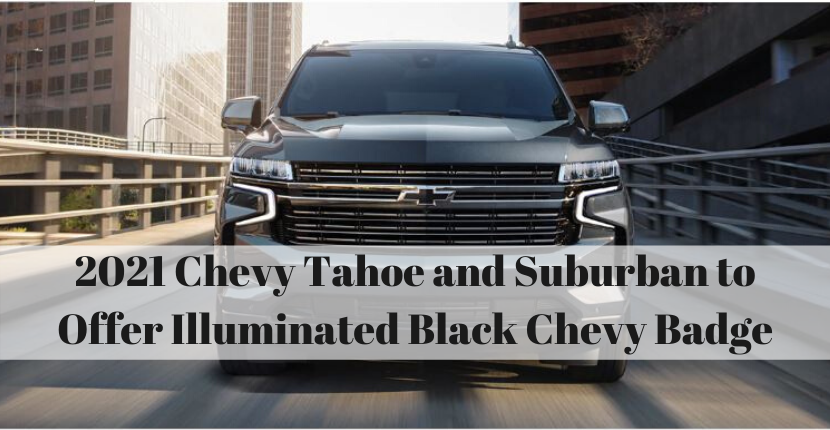 Yes, at Apple Chevy, we are always excited by improvements to the look and performance of the vehicles we sell. For one thing, it makes our jobs a whole lot easier when the value beats out the price on all of these great Chevy models of cars, trucks, and SUVs.
If you need any more reason to get the 2021 Chevy Tahoe or Chevy Suburban, General Motors announced they are unveiling an illuminated black Chevrolet emblem in the front of their vehicle. This badge is a nice touch to the next generation upgrades. Both cars will include black nameplates on their vehicle as well. The nameplate is proudly located on the front doors and liftgate. Also, it will spell out the vehicle's model name, such as "Tahoe" or "Suburban." 
This new emblem will be labeled with an RPO code of R88. RPO is standard coding used to specify the base model, engine, paint color, wheels, infotainment system, and other variant options. With any exterior upgrades, there are fees associated with additional features. For example, the 22-inch chrome wheels cost an extra $1,995, and these illuminated black bowtie badges cost an additional $450. Both Tahoe and Suburban will be sold as an LPO or dealer-installed option.
If you're not keen on paying for the upgrades, the RST and Z71 trim levels come with a non-illuminated Black BowTie Emblem along with Black nameplates. These will also be categorized as the RPO code SFZ. However, Chevrolet has decided to go away with the previous Black and Gold illuminated Chevy Bowtie Emblems. Not only will these illuminated bow ties set you apart, but they provide an element of customization and refinement to your brand new car!
Find Your Next Chevy Vehicle
Make 2020 your best year with this brand new four-wheel drive. Find the nearest Chevy dealer near Tinley Park to get your hands on the 2021 Tahoe or Suburban. Your Tinley Park car dealers have the best selection of Chevy cars, trucks, and SUVs. We at Apple Chevy are located at 8585 West 159th Street Tinley Park, IL 60487, or call us at 708-336-3167.