Apple Chevy's #Imgratefulfor Challenge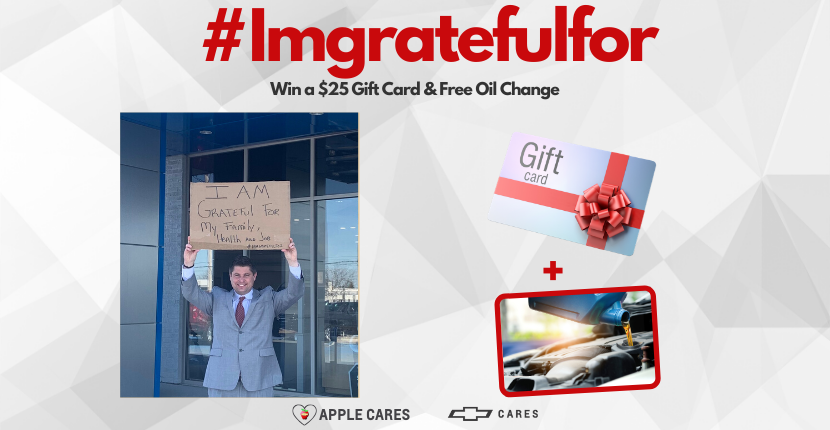 The Coronavirus pandemic has disrupted daily norms of business, education, and overall life. Along with this disruption comes a range of emotions. From not being able to go about your normal daily routine to not being able to see family members and friends, we along with most of you are starting to feel the full effects of this virus in more ways than one.
We here at Apple Chevy are grateful for all of our wonderful customers, especially during these tough times. So, to show our appreciation we wanted to give back in a way that's different –  the #Imgratefulfor challenge.
For this challenge we asked that you comment on our Instagram and Facebook posts something that you're grateful for and the winners received a $25 gift card and their next oil change on us! We had many responses and wanted to thank everyone that participated! We loved seeing what everyone is grateful for and we hope they all put a little smile on your face.
As always, Apple Chevy is here to serve you and the surrounding communities. We are currently open, our sales department is by appointment only – which you can easily make online or by calling us at (708) 364-2600. We also offer a secure, fast, and easy way to buy from home. For more information on ways to buy from home, our cleaning and disinfecting processes, or other ways we can help during these times feel free to reach out to your Tinley Park Chevy dealer today!