What's the Difference Between 4WD and AWD?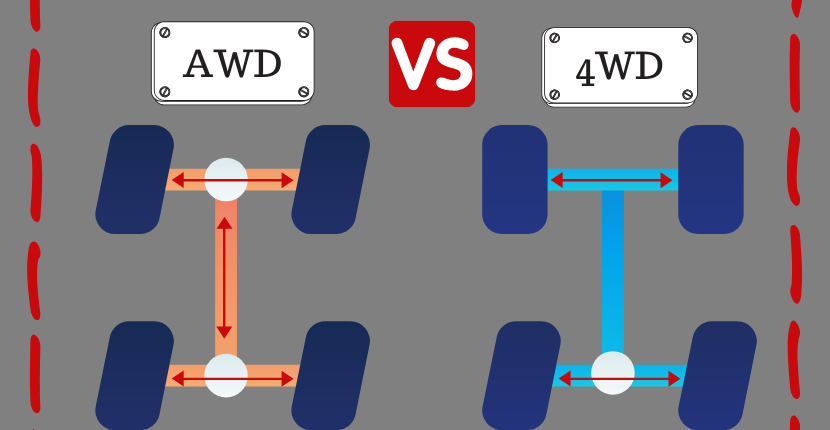 If you are unsure of the differences between 4WD and AWD, you are not alone. It's a pretty common question and we get it here all the time at Apple Chevy. Maybe you pretend to know the answer, but really don't. That's fine too. Here's a breakdown of the differences as well as some great Chevy vehicles in both categories.
4WD
Chevy 4WD stands for four wheel drive. Also called 4x4s, this refers to the vehicle's drivetrain. In the case of the 4WD, the two-axled drivetrain provides torque to all four wheels at the same time. This is the drive train commonly found on trucks and sports utility vehicles that are built on truck platforms. 4WD comes in handy in extreme road conditions and for off roading adventures. It's also helpful in those areas of the country, like the Midwest, that experience adverse weather conditions. You know, like the sloppy rain and snow we enjoy here for much of the year.
On most models, 4WD is a feature that is engaged by turning a knob when needed, It's great for wet weather, but not so great in dry conditions.
4WD helps the vehicle grip the road better. It also handles better and both of these things make for safer driving. If you enjoy taking your Chevy off road then you might be interested in the Suburban, Tahoe, Colorado, or Chevy Silverado AWD system as options.
AWD
AWD stands for all wheel drive. I know what you're thinking: if a car has four wheels and the drivetrain is powering all four, isn't that also four wheel drive? Yes, but the difference is that with AWD vehicles that torque is split between the front and rear axles. All wheel drive is only engaged when conditions warrant an even distribution of power to all four wheels. Again, this comes in handy when we are experiencing one of our famous Chicagoland snow storms. For normal conditions, you don't need to even know how to engage 4wheel drive, the drivetrain switches automatically in order to increase fuel economy. Some Chevy SUVs with AWD are the Chevrolet Trax, Chevy Equinox, and Traverse.
If you're still unsure which drivetrain will best suit your needs, come talk to us at Apple Chevy. We are happy to tell you about all our great Chevy cars, trucks, and SUVs, including the Tahoe all wheel drive. We're located at 8585 W 159th Street in Tinley Park. See you soon!