2020 Chevy Malibu Can Hit 60MPH in 6 Seconds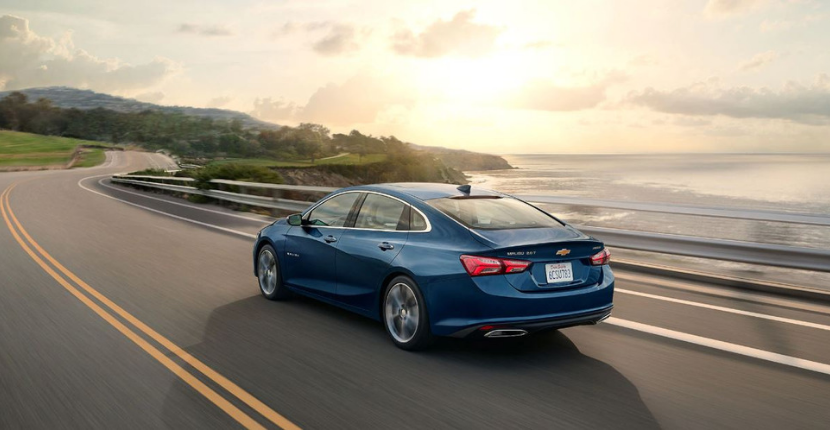 The 2020 Chevy Malibu is a top choice amongst its competition. Although there is not much known about what this vehicle will encompass, there is much information about what will power it. We do know that this vehicle is speedy, but rumor has it that it is also stylish, too. Read more about this model below!
The 2020 Chevy Malibu comes standard with a turbocharged 1.5L 14 LFV engine. This engine produces 160 horsepower, delivers 184 lbs/ft of torque, and comes standard with a CVT. This engine is so powerful that it will reach speeds of 62 mph in as little as 9.3 seconds!
Additionally, the 2020 Chevy Malibu is also available with a 2.0L inline four-cylinder LTG. This engine produces 250 horsepower, delivers 260 lbs/ft of torque, and comes standard with nine-speed automatic transmission, which reaches 60 mph in only 6 seconds!  Talk about speed! The table below details this information: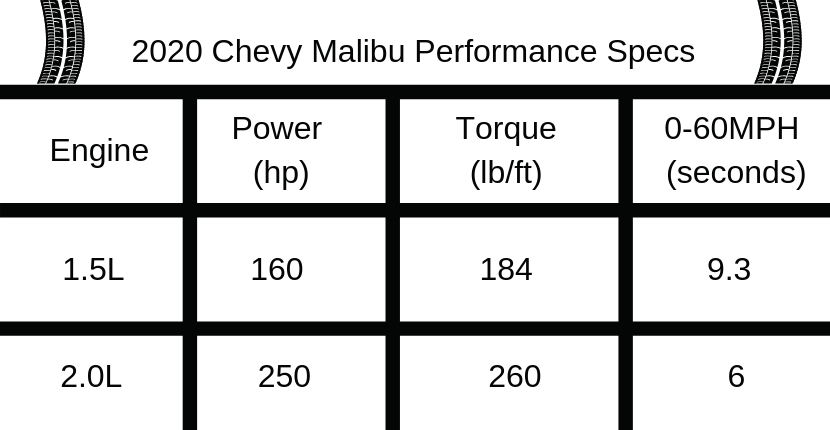 The 2020 Chevy Malibu is a major upgrade from the prior models. It is rumored that changes to the exterior will also be a key feature of the 2020 Chevrolet Malibu. For example, drivers will have many more options to choose from – one being the exterior color. Additionally, word around the water cooler has it that slight changes to the trim levels will be featured including having the ability to choose a hybrid trim.
Now, although the 2020 Chevy Malibu may seem like the type of car that will give you the need for speed, the new Malibu will also be equipped with a variety of safety features. One safety feature in particular is geared towards teenagers. The Buckle to Drive feature alerts teen drivers to buckle their seatbelt before driving. The system will stall the gearshift for 20 seconds, preventing the shift out of park. Then, an audible seat belt reminder will sound when the teen driver presses on the brake pedal. As your teenager is learning to drive, the 2020 Chevy Malibu will help to remind them of the beginning steps when learning to drive – buckle up!
At Apple Chevrolet, safety is always our number one priority. It is important for new, young drivers to always practice safe driving. The Buckle to Drive feature will encourage teenagers to wear their seatbelts and also help their friends and family to remember as well! The 2020 Malibu educates all drivers on the importance of safety and buckling up. Not only will you arrive to your destination quickly, but you will also arrive safely.
Of all the 2020 Chevy models, this is one to check out! Are you ready to get your 2020 Malibu? Click here for more information about the 2020 Chevy Malibu, or visit your Tinley Park Chevy dealer today.