The 2019 Blazer Is the Best in Current Chevy Interior Design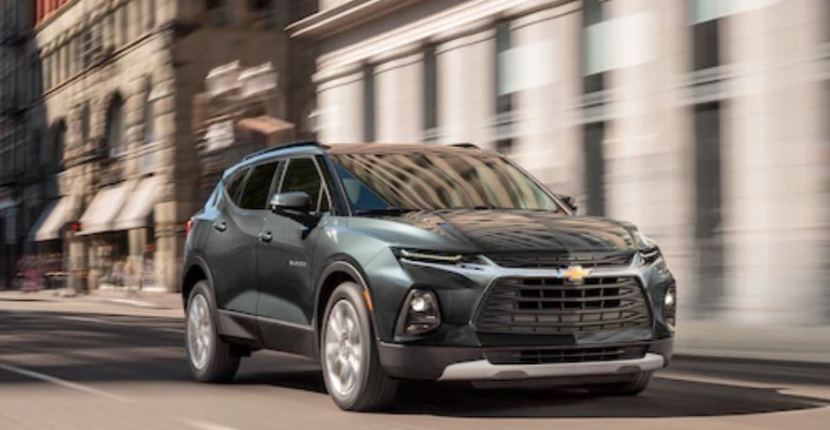 It comes as no surprise that year after year Chevy leads the competition in strong styles and capabilities. This year, the new 2019 Chevrolet Blazer SUV stepped up to lead in interior design and specs. See why this SUV stands out from your Tinley Park Chevy dealer, Apple Chevy!
From the outside, you can tell that the Blazer stands out from previous models due to its narrow and Chevy designed grille. It is defiantly an eye catcher from the outside of the vehicle, but the inside is what really makes Chevy fans love this new model. Recline back in the front and back row seating to make yourself comfortable for a long ride.
Traveling up to 20 mpg in the city and 26 mpg on the highway in style is easy with the new Blazer. Stay warm in the harsh winters and cool in the summers with climate controlled leather or cloth seating all from a touch of a button.
The slick design across the center with a standard 8-inch touch screen display really shows off how spacious the front of the vehicle is. Navigate to your destination, make hands free phone calls and much more at the tip of your finger-tips.
Just like 2018 Chevy models, the new 2019 Blazer is equipped with enough storage in the inside of the vehicle to fit all of your family's belongings for road trips. Chevy's cargo management system has a moveable rail that locks in place all hidden into its design. It's no wonder why this vehicle is leading in design!
With options ranging from three trim levels, there is a Blazer to fit your unique lifestyle. The luxury interior style carries across all three trims starting from the Premier, RS, and Blazer. No matter what trim you choose, Chevy did a great job of incorporating sleek style to all.
What are you waiting for? Come and see us at Apple Chevy to get your New Blazer! Just search "Chevy dealer near me" or give our sales department a call at (708) 336-3167 today. Browse from hundreds of Chevy models at your Chevy dealer today. Already have your Chevy Blazer but need an oil change or quick tune-up? Visit our Chevy Service Department today. We look forward to serving you!