Post-Winter Car Care and Cleaning Tips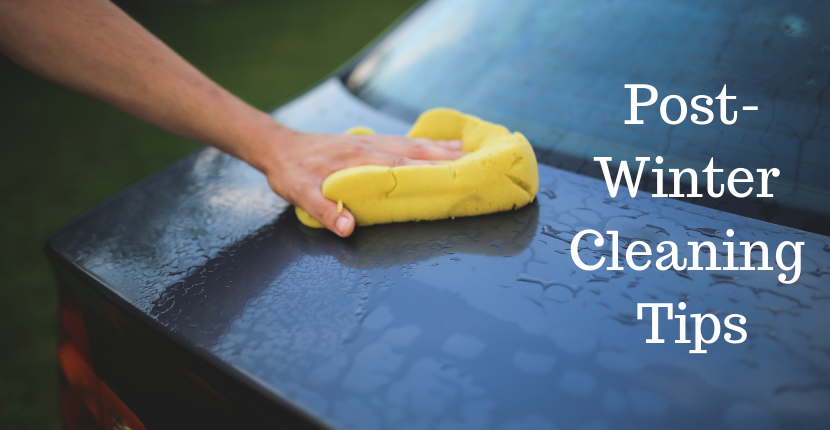 The winter is cold, long and leaves many of us wishing for warmer weather. Coincidentally, the cold weather isn't a friend to vehicles, either. Not only do vehicles have to work harder in cold weather, but they also become caked in layers of filth. When the first sign of spring emerges, you know that means one thing – spring cleaning!
During the winter, muck tends to collect and linger on the outside of your vehicle. This can cause corrosion, and in turn cause hefty damages. In particular, cold temperatures typically damage rubber objects like tires. Tires and rubber objects are at an increased risk of destruction due to potholes cause by the expansion and contraction of the road, which is caused by temperatures increasing and decreasing.
The first thing drivers should do to kick start their vehicle's spring cleaning is to get a "top to bottom" vehicle wash. To combat the salt from the roads, dust, dirt and grime that accumulate during winter, a complete wash is necessary. This includes washing the undercarriage, wheels, tires, and nooks and crannies. Then, you will want to rotate your vehicle's tires. In so doing, your tires will last longer, which will save you money in the long-run. It is also a good idea to wax the entire exterior of your vehicle. Salt and grime eats away at the wax on vehicles, so giving your vehicle a little TLC by waxing it will help make sure the paint looks good for years to come.
After the exterior is clean and shining, drivers must pay special attention to the interior of their vehicle. Vacuuming the seats and carpets rids the excess dust and dirt that may have collected during the winter. Additionally, it is beneficial to clean your vehicle's glass surfaces with a glass cleaner and wipe down the dashboard with a cloth duster.
Visit your Tinley Park Chevy dealer to learn more spring cleaning tips or click here to view the best selection of Chevy models for sale. Your local Chevy dealer is guaranteed to have the best 2019 Chevy models on display for your convenience. Check out our service center too, our mechanics are on hand to help!