7 Reasons to get Regular Oil Changes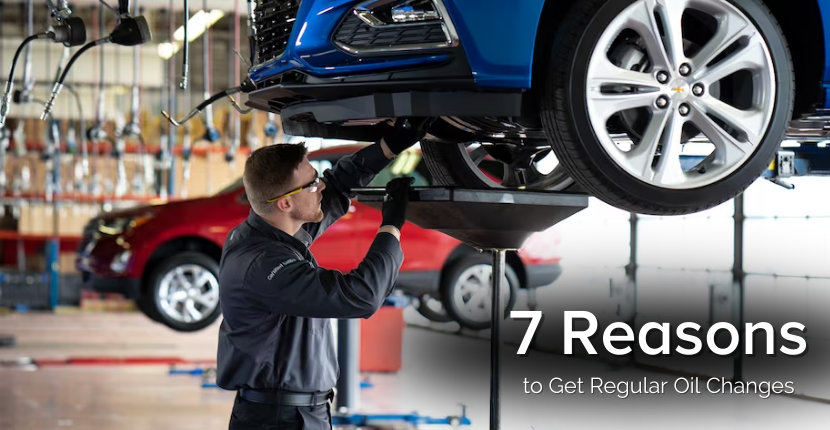 As we slowly make our way out of the winter months, now is a great time to get an oil change. Some maintenance for your vehicle needs to be done on a regular basis. One major thing to make you're doing on a regular time period is getting your vehicle's oil changed. Driving your vehicle with little or no oil can cause damage to your car and can risk your safety during inclement weather. Schedule your Oil Change Near Me now at Apple Chevrolet!
Seven Reasons to Get Regular Oil Changes 
Engine Efficiency

Better Mileage

Longer Engine Life

Environmental Benefits 

Engine Protection

Helps Cool Engine Components

Easily Pass the Vehicle Emission Test
How Often Should You Get an Oil Change? 
Getting regular oil changes is easy and can extend the life of your car because engine oil is one of the most important fluids in your car. It helps keep your engine running smoothly and lubricates engine components. As you drive, oil breaks down and is exposed to contaminants reducing its lubricating properties. Certified mechanics recommend having your vehicle's oil changed every three months or 3,000 miles. Automobile manufacturers usually advise having the oil changed every 5,000 miles.
Other Benefits of Regular Oil Changes
Many people often put off getting an oil change, even though it costs them money in the short and long terms. Other reasons to get an oil change include providing a bump in fuel economy and preventing significant maintenance issues. Make it easy on yourself and your vehicle by keeping to a regular oil change schedule. Schedule your oil change service now at Apple Chevy Tinley Park!
Chevy Service Near Me 
Apple Chevrolet in Tinley Park is the best place to get your vehicles repaired and maintained. We invite all Chevrolet fans to come and visit our service center. We guarantee to deliver the best possible solutions. Our Chevrolet service department in Tinley Park near Chicagoland has certified technicians to handle all your repair and maintenance needs. We provide oil changes, tire rotations, flat repairs, and general tune-ups. Drop by our Chevrolet service center today, or schedule an appointment. Our friendly and knowledgeable staff will be glad to lend a hand. Our Chevrolet auto service and repair center is your one-stop solution. 
Visit Apple Chevrolet!
Looking for a Chevy dealer near me? At Apple Chevy, you can find new and used Chevys for sale, as well as receive excellent service for all of your automotive needs. While we are located in the beautiful suburb of Tinley Park, we serve residents throughout Cook County and the surrounding collar counties. We are the best choice when looking for a Tinley Park Chevy Dealer and are proud to call those residents our customers. Visit us to get oil change coupons today!