Prepare for the Electrified AWD Corvette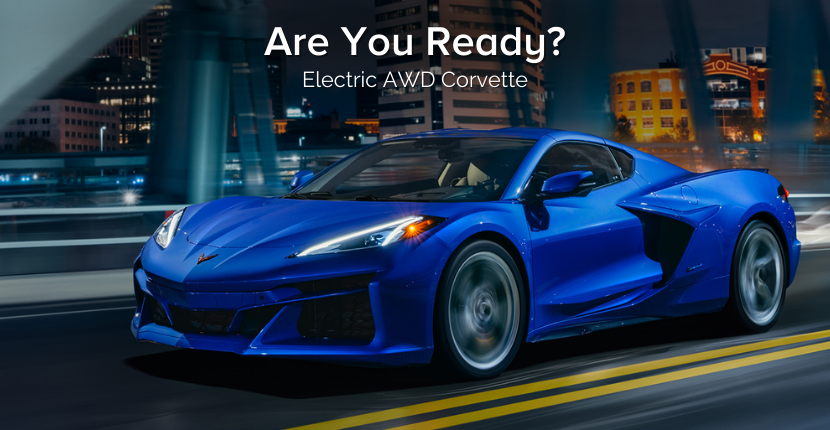 Sports car fans, get ready! The new era of sports cars is here. Designed for year-round performance, the Corvette E-Ray is always up for a challenge, whether it's snow, rain, mud or ice. But this sophisticated supercar wasn't created to take on Mother Nature alone. With technology inspired by the C8.R race car and Le Mans prototypes, plus standard carbon ceramic brakes, it's made to take on the greatest cars in the world. Learn more about the 2024 Corvette E-Ray now Apple Chevy Tinley Park! 
Debuting the Electric Corvette E-Ray 
There's nothing else like it. Over 70 years and eight generations, Corvette has been innovated upon time and time again. And now, it's been electrified for the first time with an e-AWD system that works in tandem with its LT2 V8 engine to give it the fastest 0 to 60 time ever for this legendary nameplate. But this latest Corvette isn't made simply for performance. With standard all-season tires and Magnetic Selective Ride Control, the 2024 Corvette E-Ray made for all-season touring too.
The Chevrolet Corvette E-Ray will premiere at the 2023 Chicago Auto Show. Attendees will get a special exclusive look at the new electric sports car. The electric sports car will launch in 2024, but the specific Corvette E-Ray release date is still unknown. Get in touch with your Chevrolet Dealer Near Me for updates!


LT2 V8 Engine
With 495 horsepower and 470 lb.-ft. of torque, this 6.2L small block powerhouse is designed to thrill on every drive, on both road and track, and contributes to an overall 655 horsepower. It features eight equal-length intake runners of 210 mm to maximize torque and airflow. A dry-sump oil scavenge system uses three pumps to ensure oil quality and flow to critical areas during high g-force cornering and acceleration. All of this power produces the fastest Corvette E-Ray 0-60 time at just 2.5 seconds. 
A Battery to Power You Through Anything 
A 1.9 kWh lithium-ion battery electrifies the electric Corvette 2024 for the first time, powering the electric drive unit that powers the front wheels. The battery is self-charging, picking up energy as you go, letting you focus on the drive. The E-Ray battery system includes an integrated power electronics system designed for maximum responsiveness, efficiency and performance, all in support of a 0.5-second improvement in 0-60 time.
Take Command 
Experience your very own Corvette command center. New driver information screens keep you in the know about the vehicle's battery power in addition to a host of performance parameters. The all-new E-Ray App, conveniently located on the center screen, gives you a quick look at even more performance data, RWD vs. FWD power, and vehicle information. 
Visit Apple Chevrolet!
Looking for a Chevy dealer near me? At Apple Chevy, you can find new and used Chevys for sale, as well as receive excellent service for all of your automotive needs. While we are located in the beautiful suburb of Tinley Park, we serve residents throughout Cook County and the surrounding collar counties. We are the best choice when looking for a Tinley Park Chevy Dealer and are proud to call those residents our customers. Stop in to check out the future of electric with the 2024 Corvette E-Ray today!