Toys for Tots 2022 Recap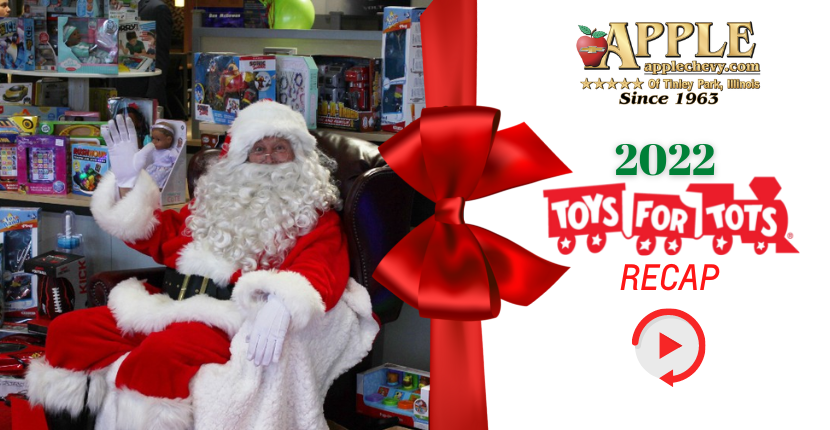 The Holiday Season is here! And that means Apple Chevy has hosted our annual toy drive. Every year during the holidays, Apple Chevy hosts a Toys for Tots Toy Drive with the Marine Corps Reserve. During the time leading up to the Holidays, Apple Chevy sets up drop-off points at the dealership for members of the community to stop by and drop off toys. These toys are then gathered to donate to children that are in need. Year by year the number of donated toys increases, making us the largest single drop-off point for Toys for Tots in the Chicagoland area! 
Toy Drive 2022
Our goal in holding the Toys for Tots Toy Drive each year is to send a holiday message of hope to children that are less fortunate. Because of your help, these children are able to feel the holiday cheer this season. At this year's Toy Drive Party, we were able to come together to collect toys while enjoying live holiday music, complimentary catering from Bella Mia, free prizes, and a special guest appearance from Santa Claus. This year felt extra special having so many people come out and support such an awesome cause! Here are some photos captured from the event on December 10th, 2022:
Thank You!
The Toys for Tots Toy Drive was successful for yet another year this 2022, thanks to you all. We couldn't have done it without all of you that donated. Thank you to those who also came out on December 10th for the Toy Drive Party with Santa Claus and the Marine Corps. We had a fun time spreading holiday cheer and enjoying the live entertainment for the families. Join us again next year at your Chevy dealer in Tinley Park! To learn more about this great organization, or how to donate next holiday season, visit us online or give us a call at Apple Chevrolet today!