Chevrolet Reimagines Dream EV Garage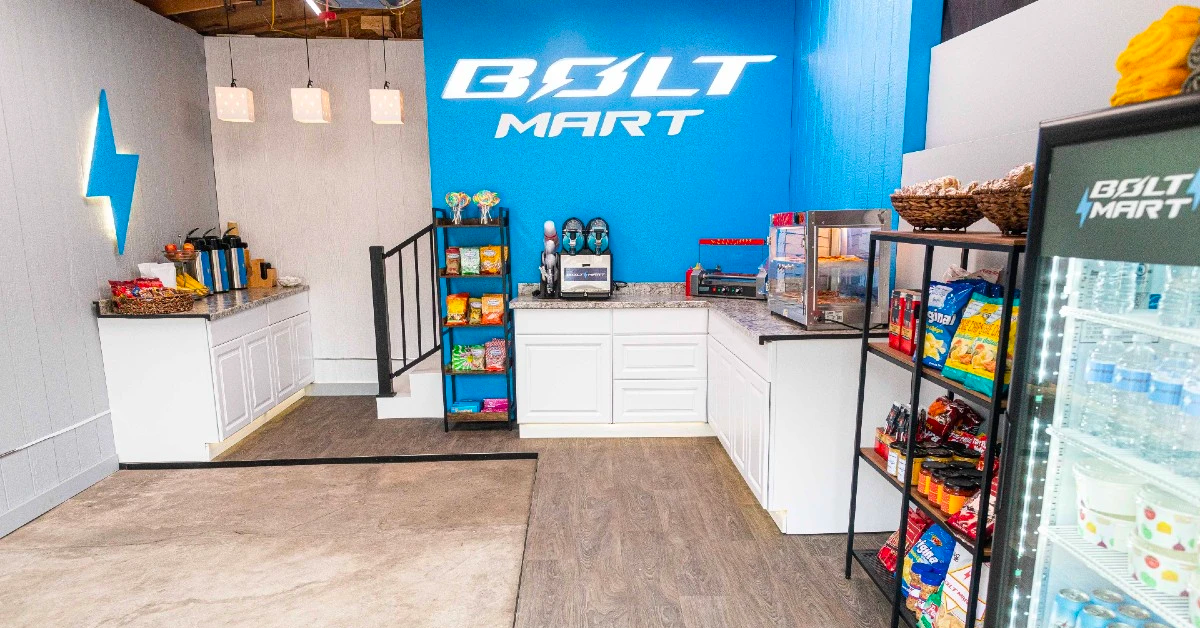 Chevrolet recently unveiled a complete garage makeover inspired by a Bolt EV owner. This EV garage came about when she realized she was missing out on her favorite gas station impulse buys since she charges her vehicle's battery pack at home and skips the gas station altogether. Chevrolet went to work figuring out how to bring EV drivers who charge at home the perks of stopping at a gas station, like enjoying chips, footlongs and pizza. Learn more about home charging electric vehicles now at Apple Chevrolet! 
What EV Drivers Missed 
One great perk of driving electric cars is not having to buy or pump gas thanks to charging at home. But after years of hearing stories from Bolt EV owners who love living the EV lifestyle, Chevy noticed that there were a few things many EV drivers said they missed. Specifically, EV drivers miss the guilty pleasure snacks found at the gas station mini mart. 
With many EV owners now charging at home, Chevrolet decided to transform one Bolt EV owner's garage into the "ultimate EV garage" to demonstrate how EV drivers can have the best of both worlds: indulging in the tasty treats they love, while charging their electric car at home.
Designing the All-New EV Garage 
Chevrolet collaborated with celebrity designer and builder Wendell Holland, recognized for his popular television shows in home design. Holland helped redesign Denver resident and Chevy Bolt owner Pamela Talley's garage into an at-home convenience store. Chevy even polled the brand's social media audience to gather followers' favorite gas station snacks and incorporated these into the makeover. Pamela's garage is now stocked with gas station favorites such as a frozen drink machine, hot dog warmer, beef jerky buffet, chips, candy, a drink fridge, and more.
Holland said, "I've seen firsthand how homeowners are evolving their space to fit the EV lifestyle, so collaborating with Chevy on this garage transformation was a seamless fit. To create the ultimate garage space for Pamela, we incorporated inspiration from beloved gas station snacks and transformed the space into a modern oasis for EV living."
Chevrolet is Dedicated to Helping EV Drivers 
With many consumers considering the switch to electric vehicles, Chevrolet is helping owners see the opportunity to reimagine their own garage. In fact, Chevrolet is making it easier for Bolt EV and Bolt EUV owners to charge an electric vehicle at home. Chevy is bringing charging stations to you. Chevrolet will cover standard installation of a Level 2 charging outlet for eligible customers who purchase or lease a 2022 or 2023 model year Bolt EV or Bolt EUV. In collaboration with Qmerit, Chevrolet's official EV charging solutions installation partner, the offer gives customers access to faster charging right where they want it.
Visit Apple Chevrolet!
Looking for a Chevy dealer near me? At Apple Chevy, you can find new and used Chevys for sale, as well as receive excellent service for all of your automotive needs. While we are located in the beautiful suburb of Tinley Park, we serve residents throughout Cook County and the surrounding collar counties. We are the best choice when looking for a Chevy dealer near Orland Park and are proud to call those residents our customers. Visit us to check out all the great benefits of electric cars today!