Tesla To Open Supercharger Network To Other EVs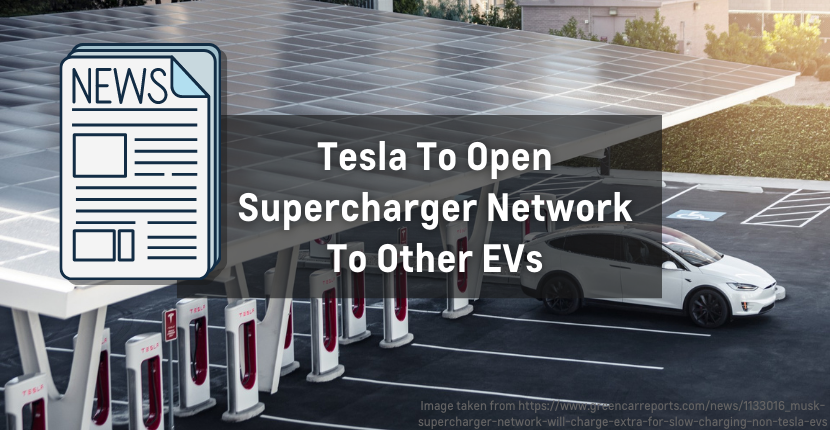 Nearly half of all car-buying adults are open to the idea of bringing a battery-powered vehicle into their home. Battery life, environmentally friendly, and safety are just a few beneficial factors of owning an electric vehicle. The catch to owning an EV is finding a charging station.  There are far more gas stations than charging stations in the United States, making it difficult to charge your EV while on a long trip. But there is good news for EV owners that can make charging their vehicles a breeze!
Tesla CEO Elon Musk announced that non-Tesla electric car owners are going to be able to use the Supercharger network to charge their vehicles in the near future. Currently, all Tesla Superchargers in the US use a proprietary inlet connector with a form factor that can only be used to charge Tesla-branded vehicles. Other EVs use a standard connector. This means that the Supercharger inlet cannot be physically inserted into a non-Tesla vehicle to charge it. Musk looks to resolve this by reimagining the hardware to be compatible for all EVs. He states:
We're currently thinking it's a real simple thing where you just download the Tesla app and you go to Supercharger. And you just indicate which stall you're in. So you plug in your car, even if it's not Tesla.
Tesla will start selling a Tesla-designed adapter which sits between the car and the Supercharger. This will allow owners of non-Tesla vehicles to use the Supercharging network along with the Tesla app to charge their vehicle. As automakers produce more electric models, the need for charging stations will become more apparent. In short, the Tesla-designed adapter will be a monumental change for non-Tesla owners.
2022 Chevy Bolt EV at Apple Chevrolet
If you are considering an EV for your next vehicle, the new 2022 Chevy Bolt EV is available at Apple Chevrolet, your Chevrolet dealership near me. A Chevy electric car such as the Chevy Bolt EV has technology like no other. This electric SUV combines electric torque with an EPA-estimated 247 miles of range on full charge. There is also an available panoramic sunroof along with heated and ventilated front seats. And with new charging stations available through Tesla, charging your EV will be simple and efficient.
If an electric model is not your style, Chevrolet Tinley Park also offers many new or used Chevys for sale that will perfectly fit your needs. You can visit us on Rt. 159 in Tinley Park. Or, give us a call today to learn more about electric vehicles and other options on our lot.