Meet Our Parts Director, Mike Sudar!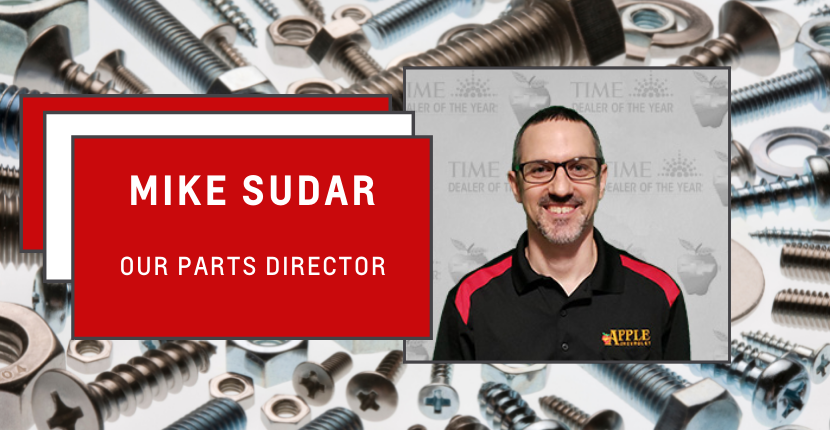 Apple Chevrolet has the most devoted, hardworking employees. They are always going above and beyond to make sure every customer at Apple Chevy has the best experience possible. Mike Sudar, our Parts Director, is one of those employees and we don't know what we would do without him.
About Mike Sudar
Mike just celebrated 21 years with Apple. His dedication and loyalty to our dealership has made a tremendous impact on our great success over the years. Mike was born in South Chicago and was raised in Calumet City, Illinois. Thankfully, Mike then made his way to Orland Park to join our team. He has truly made an impact here at Apple Chevrolet and we are forever thankful for his hard work over the years.
Questions & Answers
Question: What is your favorite Chevrolet model?
Answer: Silverado. He's a truck guy.
Question: What is a fun fact about you?
Answer: Mike likes to play pool. It's one of his favorite hobbies.
Question: Why do you love working at Apple Chevrolet?
Answer: "Working for a great owner, John Alfirevich. He is probably the best owner out there that I've ever seen. And this place is like a family and so it's nice to be working in an environment like that."
Our Customers Come First
Here at Apple Chevrolet, we are constantly putting the customer first and making sure their needs are always satisfied before leaving the dealership. When speaking to Mike about what customers can expect when they visit Apple Chevrolet, he said just that. Mike mentioned, "Especially in service and parts, we always try to take care of the customer, get their car fixed right the first time and give them a pleasurable experience." This commitment to the customer is something Mike constantly pushes for day in and day out. He is always sure that he and the rest of his department are taking great care of every customer they come across.
Why Apple Chevy Beats All Others
During our discussion with Mike, he mentioned how "There's always an opportunity here at Apple Chevrolet to go further than where you're at. I started here as a part-time porter washing cars and now, I'm the parts manager here at Apple."
We are so proud of Mike and all of his hard work that has led him to where he is today. Like we said before, we don't know what we would do without him. Thankful is an understatement when talking about Mike. We are extremely grateful to have him on our team.
Visit Apple Chevrolet
Stop the search for a "Chevy dealership near me" and come on into Apple Chevrolet Tinley Park today to meet Mike and our other incredible employees. Also, come explore our inventory of new and used Chevys for sale. We look forward to seeing you soon!