Meet Our General Manager, Dustin Hightower!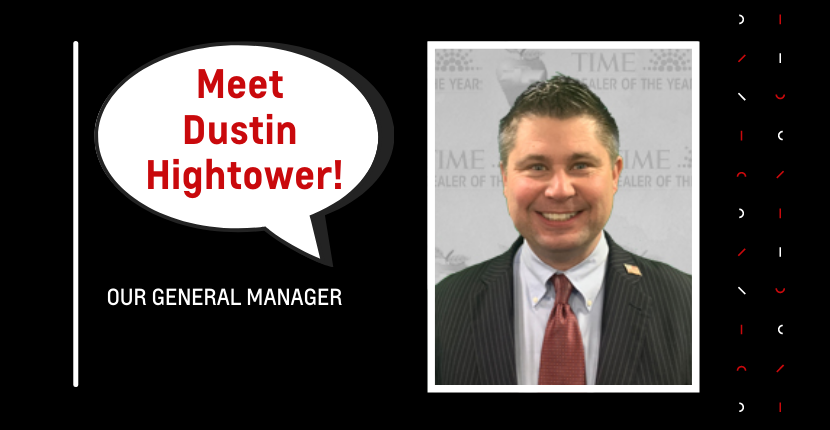 Here at Apple Chevrolet, we pride ourselves on having the best employees. All of our employees are highly skilled and extremely compassionate. They are always sure to put the customer and their needs first. Our General Manger, Dustin Hightower, does just that and goes above and beyond to make sure all things run smoothly here at Apple Chevy. Learn more about Dustin below!
About Dustin
Dustin Hightower is the General Manager at Apple Chevrolet and has been on the team for about two years. Originally from Oklahoma, he moved to Illinois with his family and resides in the western suburbs.
Dustin has helped lead the Apple team and spearheaded important initiatives during his time with the dealership. He developed R.E.D. Fridays to "Remember Everyone Deployed". All of Apple's staff wears the color red on Fridays to signify the importance of remembering active duty service men and women. Local military and veterans who visit the dealership get a free R.E.D. t-shirt.
Questions & Answers
Question: What is your favorite Chevrolet model?
Answer: "My favorite car is probably going to be the 1976 Camaro which ironically was my first car."
Question: What is one thing you like about working at Apple Chevrolet?
Answer: "One thing I like about working at Apple Chevrolet is the owner, [John Alfirevich]. He truly takes care of his people and his employees just like it's his family."
Question: What is a fun fact about you?
Answer: "I was actually in the Marine Corps. Served in 2005, [and] did one tour."
Visit Apple Chevrolet
Stop in to Apple Chevrolet Tinley Park to meet Dustin and the rest of the Apple team. Whether you visit for sales, service or parts we're sure you'll have a great experience! Don't forget to also explore our wide variety of new and used Chevys for sale. Your search for a "Chevy dealer near me" ends here at Apple Chevrolet.