Meet the Owner, John Alfirevich!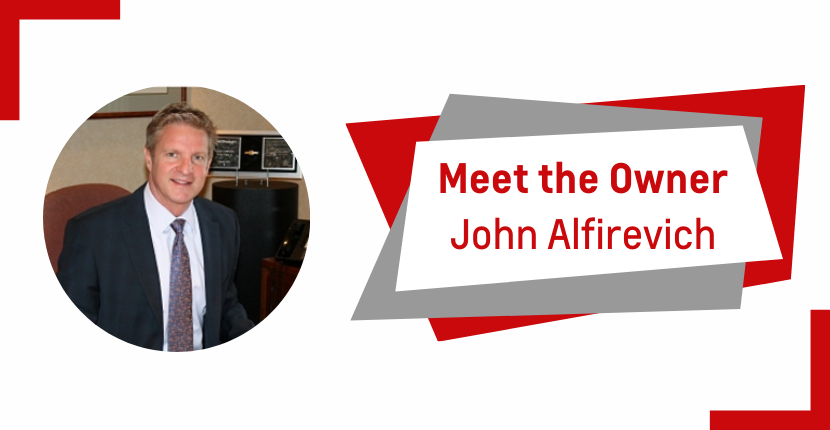 Apple Chevrolet is one of the most successful Chevrolet dealers in the Midwest area. Winning awards such as the Elite Dealer Award, Mark of Excellence and Dealer of the Year would not be possible without our incredible owner, John Alfirevich. John has been with Apple Chevrolet for 38 years! Without him, Apple Chevrolet would not be what it is today. Let's learn more about John.
About John
Owner John Alfirevich grew up in the southeast side of Chicago where his family owned and operated a fun neighborhood tavern. His entire family shared chores of accommodating the wishes of the men and women who came into the tavern. Serving lunch, dinner and drinks around the clock lead to many interactions with hard-working individuals working in the steel industry. Memories John will keep forever.
John has been in the automotive industry for almost 45 years now. He began helping in the service department at Bob Molt Chevrolet because of a local mechanical strike. After helping there for the entire summer, John moved on to porter and since has worked in every department in a dealership.
Questions & Answers
Question: What's your favorite Chevrolet model?
Answer: "My favorite Chevrolet is always and only the ones that sell… never been a huge fan of vehicles, I am a huge fan of good people. Love the people and families that make up our local business, and all the amazing customers and vendors who support our efforts."
Question: What is your favorite thing about working at Apple Chevrolet?
Answer: "Standing witness to the men and women who you watch daily, who truly apply themselves to your teachings and core values and apply their God given strengths in their abilities to win. It's so gratifying to see them grow, flourish, and succeed. What a great feeling accomplishing great tasks together and as a team. Inculpates pride beyond words."
Question: What is a fun fact about you?
Answer: "I was only 12 when I started driving cars, as well as working on them mechanically at the very same time."
John's Secrets to Success
With all of John's accomplishments at Apple Chevrolet, the question may arise, what is his secret to success? John emphasizes the importance of transparency. He says, "We have been transparent before transparency became a household word, always delivering on the Golden rule, in life."
Another one of John's keys to success is trust. Trust is important in any relationship one may build. John is sure to build every customer relationship with plenty of trust. When discussing what customers will experience when shopping or servicing their car at Apple Chevy John replied, "They will walk away, in trust of our dealership, or we did not do our job. We find loyalty in our customers because we build and deliver on trust."
Visit Apple Chevrolet Today
Meet John and the rest of our incredible employees at Apple Chevrolet Tinley Park today. We are eager to help you with any vehicle need you may have. Stop in today and even test drive a new Chevy model. Your search for a "Chevy dealer near me" ends here.