Sell Us Your Car!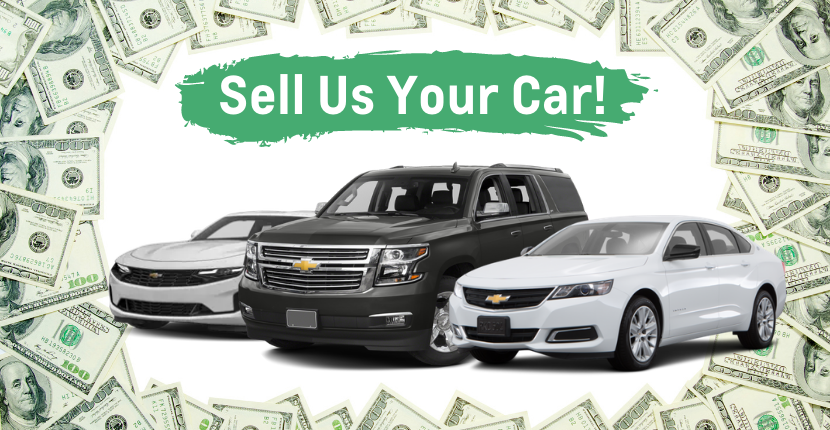 Are you in need of a new car? Looking to trade-in your long-time loved vehicle for an upgrade? Apple Chevrolet has got you covered! We want your vehicle even if you don't purchase a new one from us. We know it may be hard to part with your vehicle, but we hope to make that process simple and easy at our Chevy Tinley Park dealership.
Apple Chevy Will Value Your Trade-In
Not only does Apple Chevrolet offer plenty of new and used Chevys for sale. We will also assist you in finding out your car's trade-in value before the process even begins. You can value your trade in 2 steps and 10 seconds and see all the similar cars to yours for sale in the market today!
Common Misconceptions
You might be wondering: Is now the right time to trade-in my car? It actually is the perfect time! According to USA News, the best time to trade-in your vehicle is in the spring and summer months. The nicer weather brings on more car buyers, making your trade-in experience a breeze. Additionally, while most industries have faced substantial changes amid the Coronavirus pandemic, the car sales industry actually saw a great improvement. The average value for a traded-in vehicle rose by $2,000 from June to July, according to Edmunds' sales data, marking a 16% month-over-month increase. This means trading in your vehicle could be a beneficial part of your buying strategy.
Can You Trade in a Financed Car? 
You can absolutely trade-in a financed car. The first thing you want to do is find out how much you still owe on your current auto loan. Typically, if you owe more on the vehicle than it is currently worth, the dealer will likely shift that amount into the payments of your new vehicle or pay off your vehicle altogether depending on the amount you owe. Apple Chevrolet has plenty of financing options to explore and we are happy to help you every step of the way.
Why Trade Your Vehicle at Apple Chevrolet
Here at Apple Chevrolet, we want to make your car buying or selling experience as simple as possible. We know that every lifestyle is different and that everyone has a different budget, we will work with you to get you what you need – it's our Apple Promise. Our trade in tool is quick and easy to use and there is no obligation to sell. We'll also pick up your vehicle for free!
Apple Chevrolet Promise
Searching for a "Chevy dealer near me"? Your search ends here at Apple Chevrolet. We can't wait to welcome and serve you. We promise to provide the best products and services you need, and won't give you anything less than what you deserve. Whether you are looking to buy, sell, trade-in, or even just take a test drive, we are the Chevy Tinley Park dealer for you!