Do You Know if You're Driving in Severe Conditions?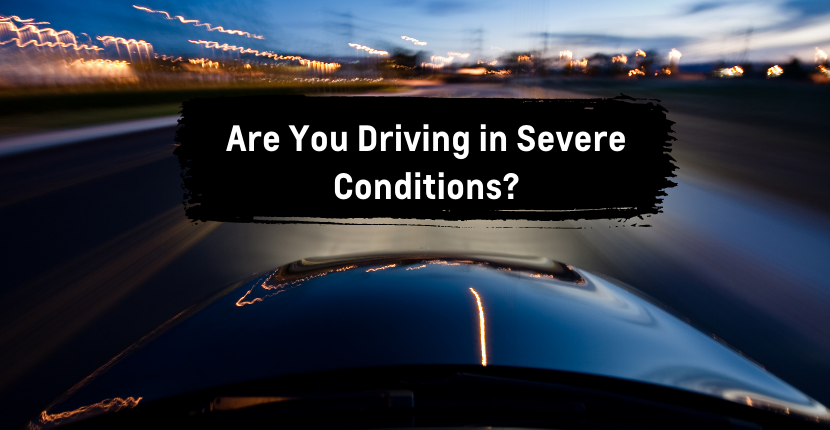 Maintaining your vehicle takes more than just changing your oil. Do you know the difference between driving in severe conditions and driving in normal conditions? Most OEMs maintenance schedules are based on idealized normal driving conditions. Seemingly normal driving conditions like driving to work, dropping your children off at school, going on vacation, and more can be considered severe conditions that require your vehicle to need additional maintenance.
Very few vehicles operate under the ideal or "normal" conditions that are considered by the manufacturer when formulating suggested maintenance schedules. Keep yourself and your family safe, as well as keeping your vehicle in top condition, by using fluids from Valvoline to handle the additional stresses of severe driving conditions. Learn more about the Chevy service department and Chevy service coupons below to find out how you can maintain your vehicle in its best condition.
What conditions can be considered "severe?"
If you regularly drive in these conditions, your vehicle is being driven in what can be considered severe conditions. Regularly driving in stop-and-go traffic is hard on your vehicle, as well as driving in the extreme heat or cold. Driving with a fully loaded car or towing a trailer or boat can also cause wear on your vehicle. Frequent and/or short commutes like driving to your workplace everyday can be considered severe, and driving in mountains or hills can also fall under this category. Dusty, muddy, graveled or salted roads also  cause wear and tear.
Apple Chevy offers Valvoline premium maintenance services with fluids designed to remove dirt and contaminants from your vehicle's systems if you drive in these severe conditions. This also protects your vehicle for a longer period of time from these fluid breakdowns.
Brake System Flush
Having quality brakes is critically important to your safety. Proper brake maintenance keeps you safe, but also helps save you from expensive repairs down the road.
Apple Chevy also offers brake system flushing that includes a full brake system flush and replacement of brake fluid with Valvoline professional brake fluid. Your owner's manual contains recommendations for preventive maintenance services. A brake fluid exchange is recommended if it is contaminated or if you are experiencing a "spongy" brake pedal or delayed stopping response.
It is essential to flush your brake system in order to remove moisture and harmful particles, extend the life of your brakes, and allow you to stop faster and more easily. Ask the professional at your Chevy service department if it is time for a brake system flush.
Transmission Fluid Service
It is also critical to keep your transmission in pristine condition. Valvoline's Automatic Transmission service enables smoother shifting and increases protection against wear and overheating. This service includes adding Valvoline transmission cleaner to remove engine deposits and replacing old fluid with new transmission fluids.
Degraded fluid can lead to excess wear and poor performance including vibration, hard shifts, and shudder. The Valvoline Automatic Transmission Cleaner is solvent-free and removes harmful deposits from the transmission components. VPS Automatic Transmission protector, conditioner, and sealer is then added to ensure longer transmission life.
Cooling System Service
Did you know that low engine coolant levels and old coolant are some of the most prevalent causes of breakdowns on highways? It is essential to flush your cooling system to remove dirt, rust, and scale deposits. New coolant will properly lubricate your cooling system and help prevent your car from breaking down.
This Valvoline Cooling System Service includes use of Radiator Super Cleaner to remove deposits from the cooling system, as well as Water Pump lubricant to help prevent buildup of deposits in the future.
Apple Chevy also offers power steering service that utilizes power steering cleaner to remove sludge and contaminants. Power steering fluid is also added to prevent leaks, squeals, and corrosion.
Looking for service?
Are you looking for "Chevy Service near me" in order to keep your car in top shape? Check out Apple Chevy, your trusted Chevy dealer Tinley Park for all of your Chevy service needs.