2021 Chevrolet Trailblazer: Model and Trim Level Breakdown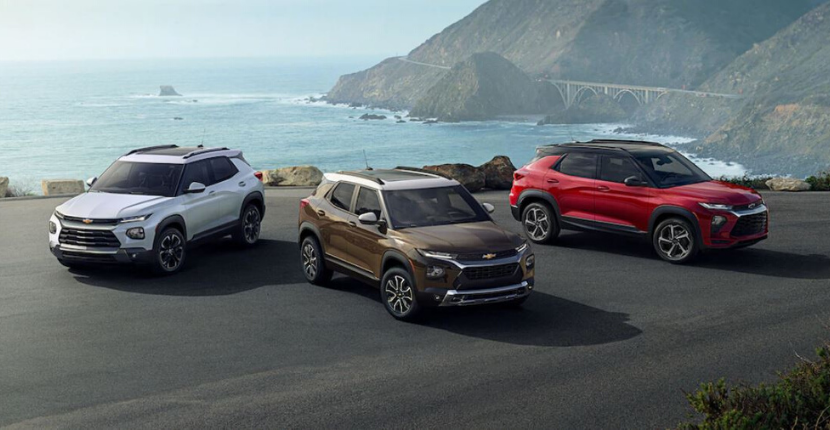 This all-new 2021 Chevrolet Trailblazer is back and reinvigorated with a unique exterior design to support its new sporty and functional look. Unlike the previous Trailblazers, this one is a smaller crossover that fits into the category of Small SUVs. Each trim level has a unique combination of configurations. As with most vehicles, the higher the trim level, the more advanced the features get.
Trims
There are five trim levels available for this crossover which include L (1VL), LS (1LS), LT (1LT), ACTIV (1SA), RS (1RS). One noticeable visual difference between the trims is the selection of roofing colors available. With the ACTIV models, you choose between Summit White or Zeus Bronze Metallic. And the RS models, you have the choice of Mosaic Black Metallic or Scarlet Red Metallic Roofs. In terms of body color, the L trim only comes in one color, Summit White. Color schemes play a big role in visual appeal, which is why the LS and LT trims have eight available colors, ACTIV trim has seven and the RS has six.
Front
The front of the vehicle includes a unique combination of Grille, Light Bezels, Bow Tie Badge, Lower Insert and Roof. With the lower trim levels, you receive their standard Black Trailblazer-signature horizontal 4-bar grille and black bezels, and Gold bow-tie badge. For higher trims such as Activ, you'll get a Chrome lower insert and two-tone roof. For those who are really fancy and go for the RS, you'll receive a high-gloss black RS-signature hexagonal grille, LED fog lights and paint-matched lower insert.
Rear
There are five elements that modify based on trim level which are the valance, rear reflectors, bowtie badge, tail lamps and exhaust. Starting with the bow-tie badge, most trims receive the gold emblem except the RS which has the black. The most unique differences between the trims are the exhaust and tail lamps. Lower trim levels receive a tucked under exhaust, while Activ and RS have either a dual with trapezoidal tips or dual with round. As for tail lamps, the first three trims get a Halogen lamp, while Activ and RS receive an LED one.
Profile
The sides of this sleek Trailblazer really shows off its lavish wheels. The features that differ are the wheels, roof rails, keyless entry, mirror caps, and the rear door. The higher levels of trims, the 1LT, ACTIV, and RS versions have access to keyless entry, color-coordinated mirror caps, and a colored roof rail. The wheels are by far the most glaring difference and they vary in size, metal, color, and finish. The L trim has a 16-inch steel with bolt-on cover, the LS receives a 17-inch silver aluminum finish and the LT, Activ and RS trims receive a beautifully garnished high-gloss black machined aluminum.