Which President Would Drive Which Chevy?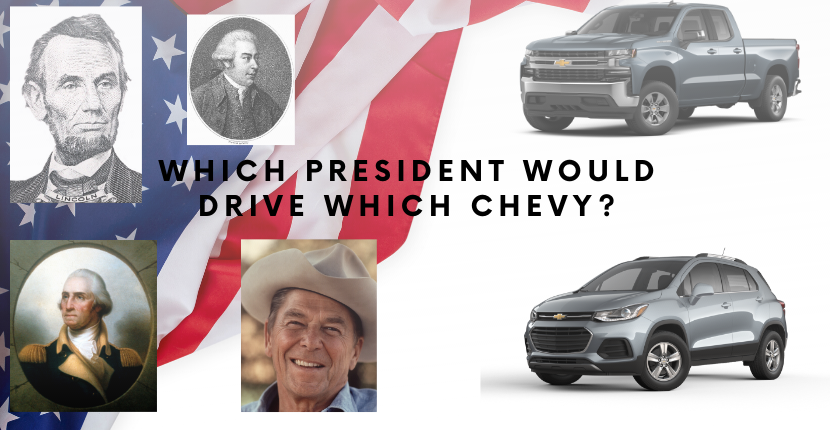 Who is your favorite president? Here's a better question, what kind of Chevy do you think they would drive? In honor of President's Day, we asked ourselves this question about three of our past presidents.
Taft and a Chevy Suburban
William Howard Taft is the 27th President of the United States. He was in office when Louis Chevrolet and William C. Durant founded the Chevrolet Motor Company in Detroit, Michigan in 1911. He was the first president to have a presidential car, but it is very unlikely that he was ever allowed to drive it himself. Taft was a big guy, weighing over 300 pounds, so if he had his choice of Chevys today it would unlikely to be a Bolt. We think Taft would probably lean more towards the Suburban. It's big, roomy, and offers the type of safety and style a president would be accustomed to. Modified SUVs, like the Chevy Suburban, are used in the Presidential Motorcade today, so he would look and feel right at home in one.
Teddy Roosevelt and a Chevy Silverado 1500
Theodore "Teddy" Roosevelt was the 26th President of the United States. He was known as a rugged outdoorsman and adventurer. He was a big game hunter who went on African safaris, hunted buffalo in the Dakota Territory, and went on a two-year expedition of the Amazon River in South America. We think Roosevelt would have undoubtedly chosen the rugged power of the Chevy Silverado 1500 for his off-roading adventures.
Lincoln and the Chevy Trax
Abraham Lincoln was the 16th President of the U.S. He was born into poverty in Kentucky in 1809. These circumstances forced him to be frugal throughout his life. This includes his time as president where it is said that he saved almost his entire annual salary. We think Honest Abe would have saved the pennies that bear his likeness and gone with the Chevy Trax which gets 26 mpg in the city and 31 on the highway. Can you imagine his big ole black top hat hanging out of the window of a Trax!?