Chevy Corvette History From 1953-Today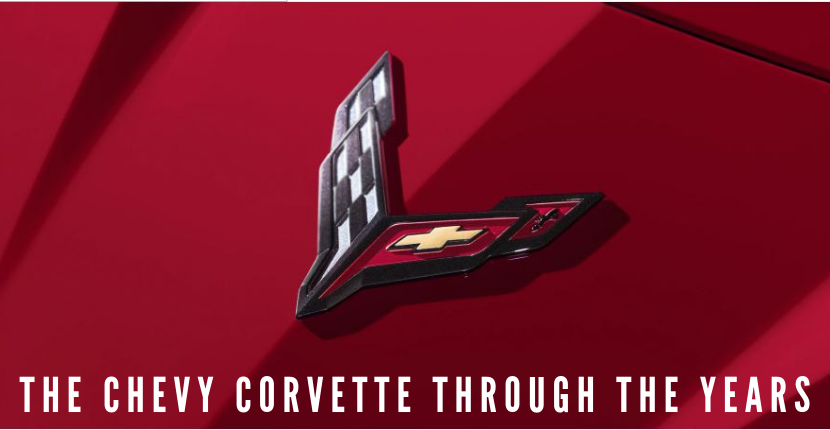 Chevy's corvette has undergone some changes throughout the years. The all-new eighth-generation Chevy Corvette would appear to be the most radical face-lift in the model's history. The front-engine layout that the car has had since its birth in 1953 has been dropped in favor of a mid-engine foundation.
The new model features a 6.2L V8 engine producing 495 horsepower and 470 lb-ft of torque. Not only have these modifications served to improve the infamous automobile, but they have also shaped the company into what is it today. Keep reading to learn about Chevy's Corvette throughout history!
1953 – 1962 C1 Corvette: Project Opel
Chevy produced the very first Corvette in 1953, known as "Project Opel." General Motors designer, Harley Earl, thought up the first blueprint and concept of the Corvette. He showed the world the first concept of the Corvette C1 at GM's auto show in New York City, but the model and assembly line was quickly moved to St. Louis.
The 300 Chevy Corvettes used a 3.9L inline six-cylinder engine. This 1953 engine produced 150 horsepower and utilized a two-speed automatic transmission. This means that it took the C1 11.5 seconds to reach 60 mph. These fiberglass-bodied cars were painted Polo White with red interiors and sold for $3,490. 
Over time, the C1 proved to come out on top due to its many positive improvements. For example, this first-generation Corvette received a much-needed tune-up when the automaker began using 4.6L in 1957. This new and improved engine delivered 283 horsepower. Additionally, it was paired with a four-speed manual transmission, starting the preference for a manual transmission among Corvette aficionados.
By 1962, the C1 packed a more powerful punch than its previous models. During this time, Chevy's first-gen Corvette produced 340 horsepower!
1963-1967 C2 Corvette: Birth of the Sting Ray
There were some big changes in store for the second-generation Corvette including a new Sting Ray name, coupe body, and an independent rear suspension. The fiberglass body and 5.4L V8 engine carried over.
The 1963 model year was the only year the split-rear-window was available in the coupe and the first to offer a race-focused Z06 option package. Modifications to the design, suspension, four-wheel disc brakes, and bigger engine options come available in the year to come. 
1968 – 1982 C3 Corvette: From Sting Ray to Stingray
By its third generation in 1968, the Chevy Corvette received a brand new exterior. It was during this time that the automaker began using sheet metal to wrap the Corvette. Not only did this give the Stingray a unique design, but it also proved to be much safer. It offered both coupe and convertible body styles. Also, the Sting Ray name changed into a single word Stingray. 
The C3 Corvette began using a 5.4L small-block V8 engine, which produced 300 horsepower and worked in conjunction with a standard three-speed manual gearbox. This engine helped solidify the Corvette as a powerful and speedy vehicle.
Updates to the Corvette in 1980 included new bumpers, hood and integrated rear spoilers, air conditioning, power windows, and tilting and telescoping steering wheel. 
1984-1996 C4 Corvette: A Delayed, But Fresh Start 
The fourth-generation Chevy Corvette was to be released in 1983, but due to some unforeseen circumstances made its debut in 1984. When it arrived, the C4 Corvette made a new chassis for improved handling, a sleeker body design, and a digital gauge cluster inside. 
To mark the final year of production, Chevrolet built 1,000 Grand Sport cars in 1996 with a 330 horsepower engine, a special Admiral Blue with a white stripe paint job and dual hash marks on the front left fender. 
1997 – 2004 C5 Corvette
By 1997, the Corvette had received an entirely new look. It now had a boxier frame and a rear-mounted transmission, giving the Corvette the style it currently has. The Corvette also began receiving more powerful engines during this time. For example, a 5.7L engine that produced 385 horsepower entered production in 2001.
2005-2013 C6 Corvette: Fixed Headlights  
This Corvette is easily the most distinguishable model with fixed headlights in place of pop-ups that were a staple for over 40 years. The cabin was larger for improves comfort and offered navigation for the first time. A 6.0L V8 producing 400 horsepower and 400 lb-ft of torque served as the base model with options of either a 6-speed manual or automatic transmission.
The Z06 model came back in 2006 and was equipped with a 7.0L V8 engine producing 505 horsepower and 470 lb-ft of torque. The base was switched to aluminum instead of steel. It also received a front bumper air inlet, larger carbon fiber front fenders, and brake cooling ducts. 
2014-2019 C7 Corvette: Rebirth of the Stingray

 
The Seventh generation Corvette made its debut in 2014 with a handful of changes and upgrades. Some of these changes include an aluminum frame that becomes standard on all models and a 6.2L V8 engine that produces 455 horsepower and 460 lb-ft of torque. The engine worked with a standard 7-speed manual or 6-speed automatic transmission. In 2015, an 8-speed transmission was introduced. 
Rumor has it that a new 2020 Chevy Corvette could be hitting production lines soon. If you are interested in the all-new Chevy Corvette, feel free to reach out to us here at Apple Chevy, your Tinley Park Chevy dealer. Our staff knows all there is to know about this new Corvette.
Check out our Corvette inventory online today! We have both new and used models in stock. If you find one that catches your eye, come in for a test drive. We are located at 8585 West 159th Street in Tinley Park.