Chevy Technology is Better Than Ever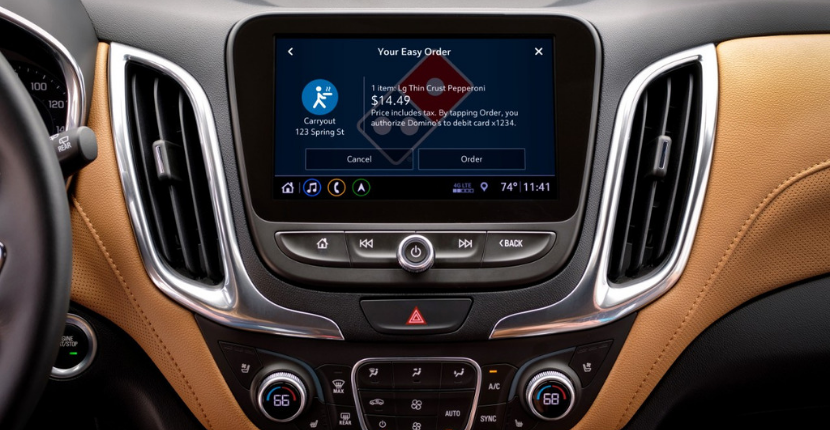 You can now save time on your drive home from work by ordering pizza directly from your Chevy vehicle. Chevy and Domino's have teamed up to give you pizza on the go. Learn more below.
According to Engadget, "You now have the chance to order pizza from your car's touchscreen. Chevy has added Domino's ordering to its Marketplace, making it the first company to offer pizza orders directly from your car's dash — no smartphone app required. It's not a particularly complicated app when you're limited to an Easy Order (read: a favorite), one of your recents or tracking your pie's progress, but it could save valuable time if you're craving a few slices as soon as you get home. You can order for pickup if delivery is just too slow."
This new pizza-ordering option is now available on Chevy models that are 2017 and newer. All you have to do to utilize this technology is create a Pizza Profile with Domino's. This profile will include setting up a favorite pizza order, a payment method, and a delivery address. After this Pizza Profile is created, you will use it through the Chevy Marketplace to place an order on the go. You can order this pizza for delivery, or for pickup on your way home. It is a great feature that can save you time, and make your day a little easier.
Chevy vehicles are known to give you a lot of great Chevy technology. You can find standard technology features that add comfort and convenience to your life. One example of this technology is the MyChevrolet app that offers you the ability to remotely start your car as well as locking and unlocking it. There is also the Chevy Teen Driver technology that gives you extra safety features for your new drivers. New for Chevy vehicles is the ability to order pizza from your car. The Marketplace on your new Chevy vehicle now gives you the ability to order Domino's pizza while you are on the go.
Technology like the MyChevrolet app and Chevy Marketplace make your life easier and more convenient. If you would like to upgrade to a new Chevy vehicle, you can come down to Apple Chevy. Apple Chevy is a Chevy dealer near you, and we have a wide selection of vehicles that will satisfy your technology and lifestyle needs. Reach out to us today.