Chevy Silverado RST in the Works?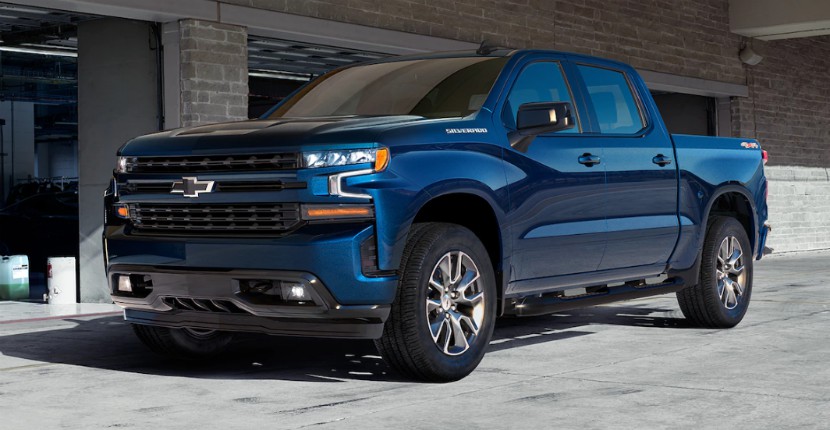 Chevrolet revealed that there will be an RST trim level on the new 2019 Chevy Silverado. What do we know so far about the RST? Let's find out!
First of all, let's talk about what RST means. This stands for "Rally Sport Truck" and it is a LT trim that adds a street performance look as well as some possible performance features. The Silverado is not the first Chevy vehicle to have an RST trim. This trim level first appeared on the Chevy Tahoe and Chevy Suburban.
Next, we will see what they exterior of the Silverado RST has to offer. What will the 2019 Chevy Silverado RST look like?
Auto Blog describes the exterior look of the Silverado RST, "Visually, the main differentiators are a body-colored grille with narrowed gaps in the center bars. The bumpers are also body-colored, and the fog lights get little chrome guards that mirror the design of the grille. At the back, the tailgate is standard Silverado fare, but it gets the addition of an RST badge. This particular test truck also has a 4×4 sticker indicating that the RST trim will be available with four-wheel drive."
As far as the exact features you can find on the 2019 Chevy Silverado RST, we don't know everything yet, but it looks to be a very promising vehicle.
In general, the 2019 Silverado drops about 450 pounds for a lighter, more nimble performance. The 2019 truck also has great cargo volume, a higher-strength steel floor on the truck bed, and even more great features. Be on the lookout for the 2019 Chevy Silverado and the 2019 Chevy Silverado RST that are coming your way soon!
Need to upgrade to a new Chevy? Come down to Apple Chevy a Chevy dealer near you. We will be happy to help you find the vehicle of your dreams. We have some great New Chevy models for sale like the 2018 Chevy Silverado. We can also help you upgrade to a car or SUV. We have great SUV options like the Chevy Equinox and Chevy Suburban. We also have some great car options like the Chevy Cruze and Chevy Malibu.
Apple Chevy is your Tinley Park Chevy dealer, so stop down and see us today. We are located at 8585 West 159th Street in Tinley Park, IL.
Come down and see us or call us at (708) 336-3167 for more information.