Chevrolet Displays Confident New Lineup at 2017 Chicago Auto Show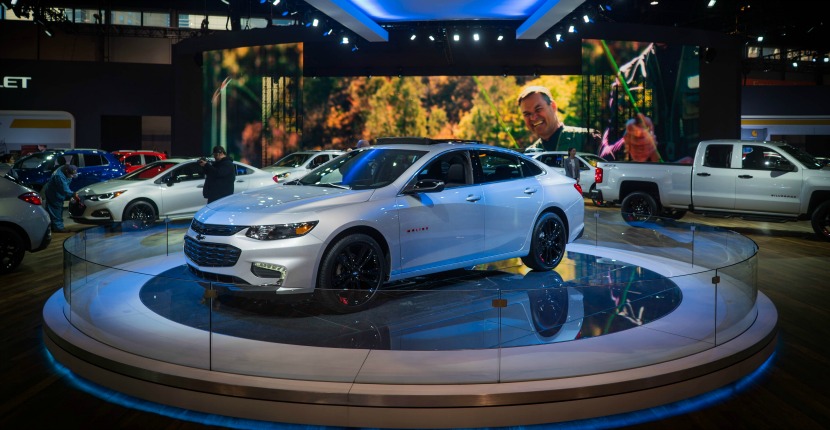 It was another first-class showcase all around at this year's Chicago Auto Show, which stylishly exhibited a tantalizing array of returning, debuting, and concept vehicles of all kinds from makers of all shapes and sizes. Of course, Chevy was there in top form as usual, with a total of twenty vehicles on display, including an amazing new Corvette, the highly anticipated Bolt EV, new versions of the popular Equinox and Traverse SUVs, and even a fun, standout new concept.
Lots of Familiar Faces
A good number of popular production favorites return for another round, including the compact Cruze, which adds a hatchback version as well as an interesting diesel option; the staple Impala and Malibu sedans, which come better equipped in terms of trim options and tech features than ever; and, naturally, the Colorado and Silverado pickups that have helped Chevy to maintain its place as a key player in the segment, which bring powerful new engine options, cab variations, safety features, and trail-ready trims to the table as well this year.
Some Exciting New Arrivals
In terms of some of the more specifically anticipated new arrivals, Chevy was happy to share some of its hard work on vehicles like the much-discussed 2017 Bolt EV, the company's new all-electric entry that's promising to deliver more bang for less buck to more interested drivers than ever before. With almost 240 miles of range on a full-charge, as well as every manner of modern technological feature necessary to complete the image of a truly forward-thinking car, including next-generation entertainment and safety features. The hybrid Volt also makes a graceful return, offering similar new options.
Garnering plenty of its own buzz, but for rather different reasons, is the new generation of the classic Chevrolet Camaro, which will offer options including a 2.0-liter, 275 horsepower turbocharged four-cylinder, a 3.6-liter V6 pushing 335 hp, and special SS and ZL1 options featuring a 6.2-liter V8 that breaks 450 hp and a 6.2-liter supercharged V8 cranking a menacing 650 horses, respectively.
Get to Know the New Chevy Today
Plenty of other excellent new Chevy vehicles strutted their stuff with class in Chicago, including the stylishly utilitarian 2017 City Express cargo van, the sturdy and luxurious new Suburban and Tahoe full-size SUV models, and the whole updated line of Chevy's newest compact cars, including the Spark, Sonic, and Trax, which have found great success lately by bringing high-quality, focused functionality to drivers on a budget. Last but most certainly not least, Chevy also had an amazing version of the Lego Batmobile on hand to show off, a concept that demonstrated both an exceptional attention to innovative design and a willingness to look outside the usual boundaries to have some serious fun with a flashy showroom concept.
All in all, things couldn't have been better at this year's Chicago Auto Show, and we hope you're as excited as we are about a whole new year of excellence from the General Motors family. You can be absolutely sure that we're here anytime at Apple Chevrolet to help you get to know any and all of Chevy's award-winning lineup, so keep an eye out here for all the news!