2022 Silverado Is First Chevy To Have Super Cruise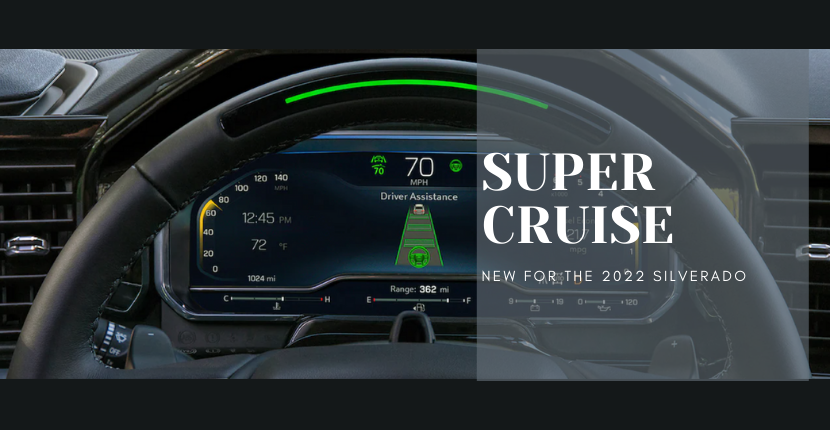 General Motors' brand-new driver assistance technology, Super Cruise is first coming exclusively to the 2022 Silverado 1500. With Chevy Super Cruise, your vehicle is equipped with cutting-edge technology for hands-free driving. To keep you safe, Super Cruise also features a Driver Attention System to monitor driver attention to the road. Get the amazing new Super Cruise feature with you 2022 Silverado 1500 at a Chevy Dealer Near Me now!
What is Super Cruise? 
Super Cruise is a hands-free driver assistance technology for compatible roads. It uses advanced technologies to provide the ease and convenience of hands-free driving. Your commute will never be the same. With experience driving over 7 million miles, Super Cruise has been time-tested with your safety in mind. 
How Super Cruise Works 
With an attentive driver, and under the proper conditions, Super Cruise-equipped vehicles can permit hands-free operation of the vehicle. Super Cruise technology works with Adaptive Cruise Control, which can control acceleration and braking while it is enabled and operating to maintain a driver-selected following gap time.
Super Cruise functions with Chevrolet Connected Services and uses real-time precise positioning cameras, sensors and LiDAR map data to help detect curves, helping to make long drives and commutes comfortable. All Super Cruise-equipped vehicles include 3 years of connectivity to support functionality, after which an eligible paid Connected Services plan is required. 
Take Super Cruise on Your Next Adventure 
Compatible on more than 200,000 miles of compatible roads in the U.S. and Canada, Super Cruise is ready for whatever the road throws at you. With adaptable cruise control, the system automatically maintains a driver-selected distance from the detected vehicle you're following. It also uses enhanced Automatic Emergency Braking with radar to help you avoid or reduce the severity of a front-end collision. For curvy roads, Super Cruise implements lane-centering to detect curves with real-time cameras, sensors, and GPS. 
Available First on the 2022 Silverado 1500
Everything that makes a Silverado a Silverado has been taken to the next level for 2022. Leading the way is the introduction of the first-ever Silverado ZR2, a rugged and capable truck designed expressly with off-road action in mind. The 2022 Silverado has a new interior, featuring a 13.4-inch diagonal touch-screen and available Super Cruise driver assistance technology. 
Additionally, the Silverado has a refreshed exterior and an enhanced 2.7L Turbo High-Output engine. And now you can start any adventure with added confidence from standard Chevy Safety Assist. More advanced and more capable — that's how Silverado rolls. To take advantage of the ground-breaking Super Cruise feature, find a Silverado 1500 For Sale Near Me now!
Visit Apple Chevy!
At Apple Chevy Tinley Park, we have a wide variety of new and used Chevys for sale, including the new 2022 Silverado 1500. Visit us to learn more about Chevy Super Cruise or schedule a test drive today!