What Is 4-Wheel Turn?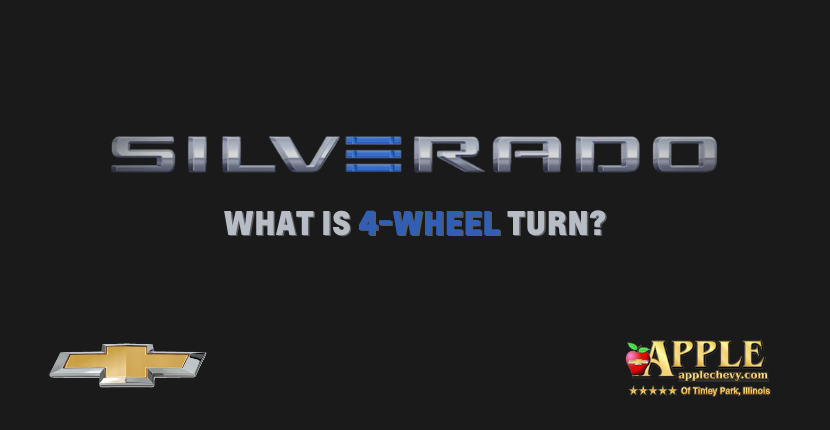 Chevrolet has big things coming including a new electric pickup truck with incredible features. Electric vehicles are taking the automotive world by storm and Chevy is following pursuit by releasing a teaser campaign this past August for their new electric Silverado pickup truck. The Chevy Silverado electric will feature 24-inch wheels with four-wheel turn capability. But you might be wondering: What is 4-wheel turn?
Chevy Electric Silverado
The Chevy teaser video opens with a statement, "designed from the ground up to drive circles around the competition…tight circles." While our first thought was a Chevy Silverado doing donuts in a parking lot, this feature is much more prestigious than that. The Chevrolet press room describes the 4-wheel turn as a chassis feature that "enables the vehicle to steer all four wheels, enabling increased agility and tighter turning radius at low speeds, improved handling and stability at higher speeds, as well as great trailering dynamics." Paired with enormous 24-inch wheels, this is a huge statement for the Silverado that will set it apart from past models. While not every model will come with 24-inch wheels, the option is sure to gain traction amongst buyers.
So why does the 4-wheel turn feature matter? Chevy is striving to produce a new electric pickup truck with agile steering that can also help with trailering too. This means the handle on the Silverado will be better than ever. Not to mention this will be the first Chevy electric pickup truck, making it environmentally friendly and perfect for all roads and weather conditions.
There has not been a release date on the new EV Silverado, but buyers can expect to see more electric vehicles on the market with astonishing features convenient for any Chevy owner.
Chevy Dealer Near Me
If the Silverado is not your style, you're in luck. Apple Chevy is thrilled to release other 2022 models and electric vehicles as we anticipate the arrival of the new EV Silverado. We have a great selection of 2022 models including the:
Bolt EV
Colorado
Equinox
Blazer and Trailblazer
Trax
.Traverse
Explore our 2022 models here.
Apple Chevy also offers an extensive inventory of used Chevy's for sale. Our inventory holds a wide selection of used 2020 Chevy Silverado's as well as other models perfect to grab before the winter season hits.
If you can't wait until this new model comes out to enjoy some new features for your vehicle, you can enhance your ride now at Apple Chevrolet Tinley Park. We offer customizable features including chrome wheels or floor liners for the ultimate interior protection. Everything from exterior vehicle care kits to splash guards are available for select vehicles.
Apple Chevy Tinley Park
Here at Apple Chevrolet, we are dedicated to providing exceptional customer service and are happy to answer any questions you may have regarding upcoming models, or the latest specials and lease offers. Our showroom hours are from 7:00 am – 7:00 pm Monday-Saturday. Or give us a call at (708) 336-3167 to schedule an appointment.