2018 Chevy Traverse Focuses on Space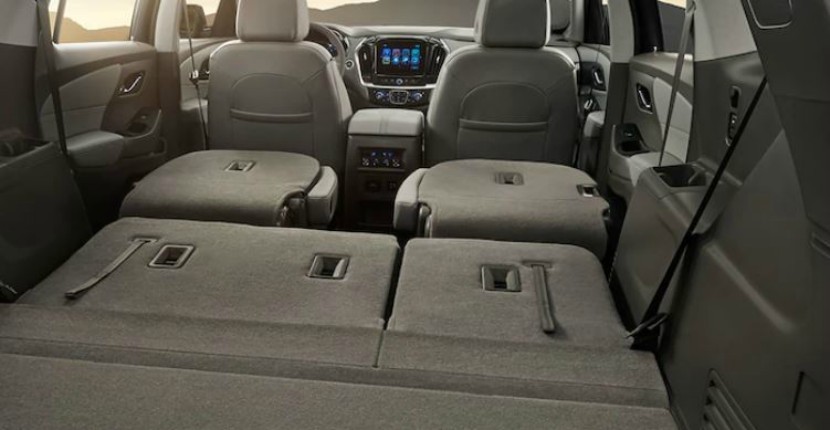 Chevrolet creates affordable and reliable vehicles for every lifestyle. Whether you are driving all of your friends to the latest concert or packing for a day at the beach, the 2018 Chevy Traverse is ready for wherever the road takes you.
With a total cargo space of 98.2 cu. ft., the 2018 Chevy Traverse was created with space in mind. This three-row SUV can comfortably seat up to eight people, so taller passengers are no longer confined to the front passenger seat! The second row passenger-side seat can be moved and tilted forward due to Chevrolets Smart Slide Seating technology. Chevy has made three-row seating easily accessible to passengers while adding much more space for legroom. This spacious SVU accommodates all passengers.
The 2018 Traverse is full of secret storage compartments. One storage compartment is hidden under the floor in the rear. This large storage compartment makes packing for any trip easier. Another hidden storage compartment is located on the dashboard. Lifting the eight inch MyLink entertainment touchscreen exposes a secret storage cubby. Drivers are able to create a four-digit PIN to lock and unlock this secret cubby to keep their personal belongings safe.
Not only has Chevrolet increased storage and cabin space in the Traverse, they have also increased its safety features and technology. Some safety features included in the 2018 Traverse are front pedestrian braking, lane keep assist with lane departure warning, rear park assist, and rear vision camera. Also, a rear camera mirror comes standard with this vehicle. This new technology allows the rearview mirror to act as a video screen. This technology lets drivers have a wider and more unobstructed view of what is occurring behind them.
The 2018 Chevy Traverse comes standard with its Teen Driver technology. Parents are able to set functions for their new drivers. For example, parents can mute all audio until all seatbelts are buckled. Parents also have the option to turn on all the safety features that come standard in the SUV. This Teen Driver technology gives parents a report card of their new driver's performance. This allows parents to help their new drivers learn stay safe behind the wheel.
There is a lot to love about the 2018 Chevy Traverse. From added cabin and storage space to the many safety features available, this SUV was built to make all of your trips easier. Visit your Chevy dealer for more information about the 2018 Chevrolet Traverse.