New Diesel Chevy Cruze Gets Killer Gas Mileage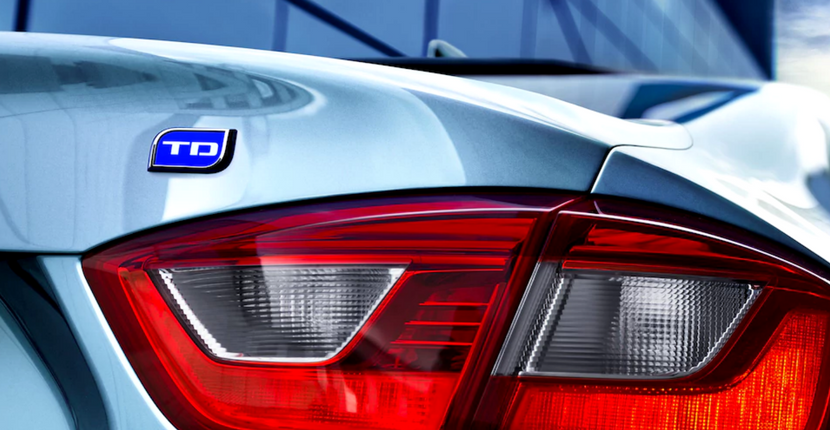 Today's modern family is more cost-conscious and environmentally-conscious than ever before. If you've been hunting for the perfect vehicle to suit your financial boundaries as well as your desire to cut our earth some slack, the new 2017 Chevrolet Cruze diesel edition may just be the perfect car for you.
The new, compact diesel Cruze gets 52 mpg on the highway, more than any non-hybrid, non-EV compact vehicle currently on the market. That kind of range means you can go from Boston to Durham, NC on a single tank of fuel costing around $35. Imagine all the possibilities! You could even make the trip from San Diego to Seattle on two tanks of fuel and have some left over for sight-seeing.
"Diesels are and will remain an important part of Chevrolet's program to reduce carbon dioxide emissions. Diesels are one of the lowest cost ways to reduce CO2 emissions and they [also] represent an opportunity for growth for Chevrolet," Dan Nicholson, GM vice president of global propulsion systems, said in a recent interview.
The Cruze is available with a range of engine configurations. Drivers who aren't thrilled with the idea of riding around in a compact diesel vehicle (despite the incredible gas mileage) might find a match in the 1.4-liter turbocharged gasoline engine. The 1.4-liter will get you up to 153 horsepower and 177 lb-ft of torque when paired to a six-speed manual transmission. Though the gas mileage won't be quite as good, the 1.4-liter is still rated at 28 mpg city, 39 mpg highway and 32 mpg combined.
Other available options include a 1.4-liter gasoline turbo (with an EPA rating of 30/40/34), a 1.6-liter turbo diesel (capable of 137 hp and 240 lb-ft of torque when paired to a six-speed manual engine), or the 1.6-liter turbo diesel (paired to a nine-speech automatic transmission) which gets an EPA rating of 31/47/37. But no matter what engine you go with, you can expect a super quiet ride. The 1.6-liter four-cylinder turbodiesel is actually 50% quieter at idle than the previous Cruze diesel.
The Cruze is one of only a handful of 2017 or 2018 compact cars and SUVs with diesel power and it's the most affordable by a mile. The 2017 Cruze diesel edition is sold with the equivalent of the LT trim line, which is the second highest variant available behind the Premier. The diesel vehicle with a manual transmission has a sticker price of $24,670, or you can opt for the diesel with the nine-speed automatic for $26,270.
If you're ready to go home in a new 2017 Chevrolet Cruze diesel edition, visit a Tinley Park Chevy dealer near you. At Apple Chevrolet, we've got plenty of fantastic Chevy Cruze models for sale on the lot just waiting for you.