New 2017 Chevrolet Malibu Redline to be Released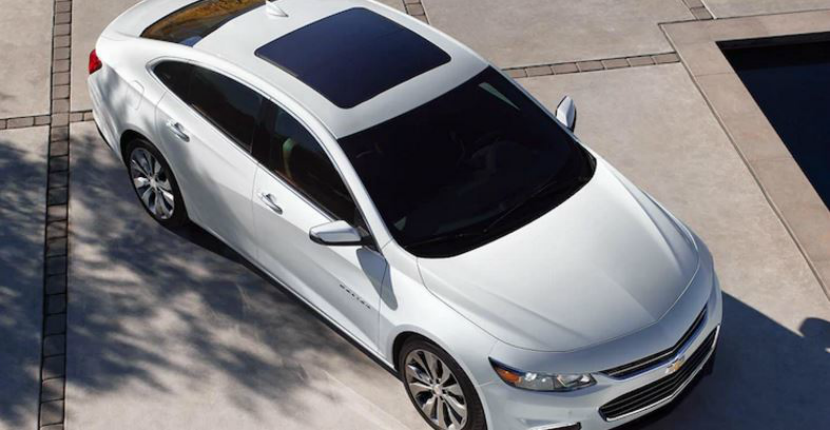 As usual, the Chicago Auto Show kicked off this year with a slew of exciting new automotive announcements. Perhaps most exciting though was Chevy's reveal of a new line of Redline edition vehicles, including the 2017 Malibu. Available on nine Chevrolet cars, trucks and crossovers, Redline is the broadest cross-portfolio special edition lineup ever offered by the automaker.
Savvy drivers will know that Redline made its debut in concept form at the 2015 SEMA (Specialty Equipment Market Association) Show in Las Vegas. The vehicles all feature standard LT equipment plus black wheels with distinct red hash marks, black nameplates with a red outline, blacked-out grilles and black Chevrolet bowtie logos. To put it plainly, they are sleek as hell.
"Redline is another example of Chevrolet bringing SEMA concepts to showrooms," said Brian Sweeney, U.S. vice president of Chevrolet, in an interview. "The SEMA show has proven to be a great way to identify customization trends in the industry and quickly apply those trends to our most popular Chevrolet models. Based on the strong interest Redline attracted at the show, we believe they will be very popular with customers looking for standout cars, trucks, and crossovers."
Since the Redline debut in 2015, Sweeney's predictions have come true–public response to the Redline concept has been overwhelmingly positive. Now, drivers will have the option to enjoy the Redline package across nine vehicles in the Chevy car, truck and crossover segments: Cruze LT (sedan and hatchback), Malibu LT, Camaro LT/SS (coupe and convertible), Trax LT, Equinox LT, Traverse Premier, Colorado LT and Silverado Double Cab (or Crew Cab) LT Z71.
While each of the vehicles obviously bears the signature Redline features, they all also come with their own special touches. For example, the Silverado and Colorado Redlines have red tow hooks and the Camaro Redline has unique black hash marks above its wheels–a distinctive design cue taken from Chevy's long heritage in motorsports.
"Our special edition lineup has been popular with customers and [Chevy] dealers alike," Sweeney said. "Since the introduction of special editions on vehicles like the Silverado and the Camaro, vehicle average transaction prices have increased, time to turn has decreased and conquest rates have risen, which has contributed to making Chevrolet the fastest-growing brand in the industry two years in a row."
The Silverado Redlines will be the first in the lineup available for purchase, with the rest of the vehicles being released gradually over the 2017 calendar year. If you're eager to get your order in for the Silverado or the classic Chevy Malibu, stop by your local Chevy dealer today. At Apple Chevrolet we're currently accepting orders and can help you pick the right Redline vehicle to meet your specific needs.